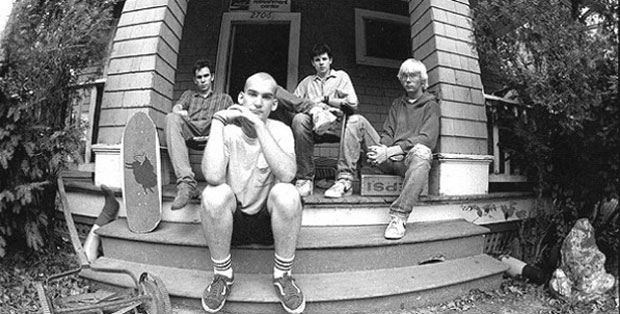 With the revival of not one but two versions of Black Flag touring and recording, speculation arose that other classic punk bands might also get back together. However, if you're hoping for a Minor Threat reunion, don't hold your breath.
In an interview with Ultimate-Guitar.com, the band's former bassist and guitarist Brian Baker quickly set the record straight:
"No. That would ruin it, I think," Baker replied when asked about a reunion. "Minor Threat was a product of its time, and we aren't minors anymore, and we certainly aren't threatening. I just think to destroy the myth wouldn't serve anybody. Minor Threat wasn't very popular until years after we broke up so I just don't see any reason to tarnish the idea that people have developed over the years about a band they never saw."
Even if a Minor Threat reunion isn't in the cards, many bands have continued to keep their music alive beyond the Complete Discography compilation. Here are renditions of 10 of the band's greatest hits:
Beastie Boys – "Screaming at a Wall"
The Beastie Boys are deservingly lauded as one of hip-hop's most legendary groups. It's amazing that they don't receive more credit for having been a top-notch punk band as well.
Pennywise – "Minor Threat"
Pennywise has covered this tune so many times over the years that I'm almost convinced they wish they really were Minor Threat.
AFI – "No Reason"
Before Davey Havok and his band became darlings of the Hot Topic mall punk scene, AFI played punk rock — and they were good at it. This aggressive 1997 cover of "No Reason" couldn't be further from what AFI morphed into.
Sick Of It All – "Betray"
While Sick Of It All might pay homage to Minor Threat, don't expect to see any of Ian MacKaye's bands covering "Clobberin' Time."
Slayer – "Guilty of Being White"
Slayer started a little controversy with their 1996 cover of this song by changing the final refrain of "Guilty of being white" to "Guilty of being right." The lyrical alteration irritated MacKaye, who stated in an interview with Steven Blush for the book American Hardcore, "That is so offensive to me." However, when questioned about a possible message of white supremacy, vocalist Tom Araya stated that it was merely "tongue-in-cheek" humor. Which seems fairly plausible since he's not white.