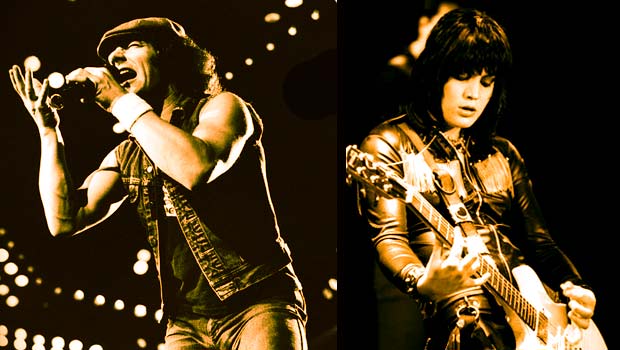 You may be among those who believe that a cover song can never be as good as the original — and if you've ever listened to the many disastrous covers that pollute YouTube, you'd have a strong basis to support that argument.
Still, hearing one musician reinterpret the work of others can allow a listener to regain appreciation for well-worn material, making something old sound fresh and new. Sure, you may never hear anyone play "Blitzkrieg Bop" better than the Ramones, or perform a rendition of "Waiting Room" superior to Fugazi's — but that doesn't mean you can't fully appreciate and enjoy the tributes of other artists as something of equal value.
However, every now and then, a band or musician comes along who takes an original tune and thoroughly improves it. Be it making a lousy track listenable or bettering an already good tune, these musicians have raised the bar on these 10 songs:
Sinead O'Connor Covers "Nothing Compares 2 U" by The Family
Raise your hand if you knew this song was written by Prince. Anyone? No?
For a brief time in the mid-'80s, Prince had a side project band, The Family, a funk group credited (alongside Morris Day and The Time) with popularizing the "Minneapolis sound." The band's only album, a 1985 self-titled effort, featured "The Screams of Passion" as its sole single. However, it is the sixth track on the album, "Nothing Compares 2 U," that would become a massive worldwide hit five years later, catapulting Sinead O'Connor to international stardom.
One person who didn't love O'Connor's take on the song was Prince himself. According to O'Connor, her unauthorized cover caused a fist fight between her and the songwriter.
"At the time he had a lot of female proteges, and I had covered his song without having anything to do with him," O'Connor stated in 2007. "He invited me to his house in Los Angeles and started to give out to me for swearing in interviews. When I told him to go fuck himself he got very upset and became quite threatening, physically. I ended up having to escape. He can pack a punch. A few blows were exchanged. All I could do was spit. I spat on him quite a bit."
Click here to listen to the original version by The Family

Joan Jett Covers "Dirty Deeds Done Dirt Cheap" by AC/DC
In 1990, Joan Jett released a cover record, The Hit List. And while she certainly compiled a great album, it's hard to argue that her versions of songs such as CCR's "Have You Ever Seen The Rain?" and the Sex Pistols' "Pretty Vacant" trumped the originals.
The album's single, however, blows the original out of the water. Jett takes an overplayed, overrated band's scummiest-sounding hit and turns it into something that is sexy and bad ass. She may be remembered for many other tunes, but "Dirty Deeds" deserves a spot on Jett's roster of greatest hits.
Click here to listen to the original version by AC/DC

Luna Covers "Sweet Child o' Mine" by Guns N' Roses
If you can look past the band's ridiculous persona and Slash's stupid hat, then it's not too difficult to acknowledge that Guns N' Roses created an excellent song with 1987's "Sweet Child o' Mine." The track's lyrics were composed by vocalist Axl Rose for his girlfriend at the time, model Erin Everly. Never mind that Rose once approached Everly with a gun saying that he would kill himself if she did not marry him, or that he stalked her for a year after they broke up — the lyrics are sincere and touching.
Despite its positive aspects, the song is still a dated '80s metal ballad with a shrill vocalist. For years, I wanted to enjoy listening to this song, but simply was unable to. But in 1997, indie pop band Luna did what performers such as Sheryl Crow and Texas couldn't: they created a beautiful, dreamy version of the song, finally fitting the lyrics to a musical arrangement that makes sense.
Click here to listen to the original version by Guns N' Roses

Jawbox Covers "I've Got You Under My Skin" by Frank Sinatra
It's 1959, and I'm sitting at a cocktail lounge table in the Copa Room at Las Vegas's Sands Hotel and Casino. I'm sipping a scotch and soda and taking a drag from a Lucky Strike, waiting for Lena Horne, "The Satin Doll," to step onstage. But instead of Horne, Ol' Blue Eyes comes out, crooning and snapping his fingers…and the crowd is eating it up. And I'm not wearing any pants!
But it's not a bad dream. I must be in Hell — my own personal Hell, where the Rat Pack provides the entertainment every night, from here to eternity.
I love Jawbox, but I absolutely despise Frank Fuckface Sinatra. Though J. Robbins and company did a great job on this cover, anyone could perform this track and have more appeal doing so than Sinatra.
Click here to listen to the original version by Frank Sinatra

Dead Kennedys Cover "Viva Las Vegas" by Elvis Presley
The 1964 film Viva Las Vegas starring Elvis Presley and Ann-Margret is not just a romantic film about the entanglement of its two main characters — it is a love letter to the city itself. Beyond the cheesy acting and almost nonexistent story line, the film celebrates and displays, of course, The Strip and Fremont Street, but also outerlying areas such as Lake Mead, the Hoover Dam, and Mount Charleston.
It also spawned one of Elvis's classic tunes, taken from the film's title. If you love Elvis, you surely love this song; if you don't, well, it's unlikely that you'd be bothered by it — but it's not something you'd choose to put on the stereo.
In 1980, the Dead Kennedys released a raucous cover of "Viva Las Vegas" on their debut full-length, Fresh Fruit for Rotting Vegetables. Though the song retains the structure of the original version, it is a sped-up, hyperactive interpretation that includes Jello Biafra's sardonic lyrics, such as, "Even if I ran out of speed, boy/I wouldn't sleep a minute of the way," and "Got coke up my nose to dry away the snot/so Viva Las Vegas!"
If you know where to look, Vegas and its environs have no shortage of charm and beauty — and yet it is also one of the seediest places on the planet. Biafra and his band mates, in no uncertain terms, mock the town for all the lowlife activities that it encourages and profits from, while boldly transforming an Elvis standard into a blistering punk rock classic.
Click here to listen to the original version by Elvis Presley