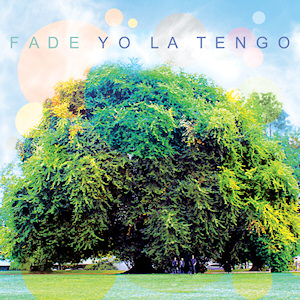 Yo La Tengo have spent the last three decades churning out multifarious music spanning a stretch between raucous noise rock and dulcet guitar pop. On Fade, the band's 13th studio effort, the trio continues their stylish scouting in the span of 10 shining tracks. Whirling riffs, string-led melody, and soft acoustic pop are all touched upon, making Fade is a worthwhile listen — but at this point, that shouldn't surprise anyone.
That's not to say Ira Kaplan, Georgia Hubley, and James McNew have gone stale on us. From the opening metallic drone of "Ohm" to the brass-soaked closer "Before We Run," Fade surprises both in depth of sound and layers of instrumentation. Each tune has its own atmosphere, which, when puzzled together, transforms Fade into a stained glass window brimming with colorful energy.
"Well You Better" traverses the familiar melancholic pop terrain of warm keyboards and whispery vocals that gave a career to scores of inferior indie bands. "Paddle Forward" is muddy and noisy and sounds like the entirety of '90s college rock distilled into three minutes. "Stupid Things" could be the debut single of a new Brooklyn buzz band. So you see, Yo La Tengo can do it, and they've been doing it better since 1984.
Fade is the first record of 2013 to concern itself with dualities. Is it warmly nostalgic, or just boldly modern and eclectic? The answer, likely, is both, which makes Yo La Tengo the coolest indie band to catch live with your dad. His favorite YLT record might be I Can Hear the Heart Beating as One, and yours likely won't be Fade. But as a 13th studio effort, it's packed with more surprises than most bands have in an entire career. And that's proof positive why Yo La Tengo haven't faded, and won't soon, as long as they stay curious and quirky.
(Matador Records, 304 Hudson St., 7th Floor, New York, NY 10013)