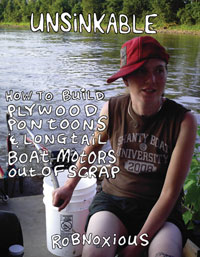 Microcosm Publishing, 72 pages, trade paperback, $7.95
As any level-headed individual already knows, you must at one point in your life build a boat and raft down the Mississippi River. Thus, I was quite eager to dive into this book and gain the knowledge of these river rats that had done just that. The title is somewhat misleading, however, as only the first eight pages document the building of author Robnoxious's vessel, "The Snowball."  So if your looking for a step-by-step guide on the subject, this might not be the book for you.
The rest of the book chronicles the author and his companions' journey from Minnesota, down the Missouri River, and through the confluence of the Mississippi River, until the journey comes to an end in southern Missouri. If you're like me and have ever considered sailing down these mighty rivers, the tales of their journey will be equally as useful. Along the way, they meet all the hazards posed by America's great rivers, from flooding, to Asian carp, to capsizing the vessel in the high current of the river bends.
Clocking in at 72 pages, the book is a very quick and easy read. Don't expect to come out of it with a large knowledge of boat building or river navigation — but if this is something you are interested in, it will set off the sparks of creativity, and you may very well find yourself plotting your own river voyage when you've finished this book.