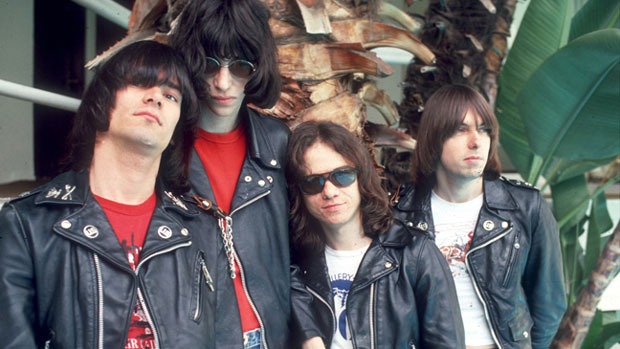 Did the Ramones invent punk rock? No, probably not. They did, however, give punk a major kick in the ass, and "Blitzkrieg Bop" is the tune that brought it to the masses and catapulted the band to superstardom. The track is ingrained in American culture, played to this day on the radio and at sports stadiums, and remains a go-to song for any band that wants to get an audience pumped up with an up-tempo sing-along. In our third covers list, we take a look at 10 notable versions of "Blitzkrieg Bop."
Shonen Knife
Over the course of their 30-year-plus existence, Shonen Knife have covered the hell out of the Ramones, and in 2011 they released a tribute album entitled Osaka Ramones.
---
Rob Zombie
You might not be a fan of Rob Zombie's music, but you have to admire his ability to take a three-chord song and somehow completely reinvent it. This track is from the Ramones tribute album We're a Happy Family (2003), which was produced by Johnny Ramone shortly before his death.
---
Yo La Tengo
Yo La Tengo cover "Blitzkreig Bop" like only Yo La Tengo could. Though the year on this video is incorrect (it couldn't have been 1981, as the band didn't even form until 1984), it is undoubtedly from very early in their career.
---
Green Day fans
Green Day have covered the Ramones many times in their career. However, during this show they cobbled together a few fans, brought 'em up on stage, and let them have at it.
---
The Offspring
Nice to hear The Offspring covering this song. Kind of reminds me of when they actually used to be a punk rock band.
---
Taggy Tones
You wouldn't think this song could possibly work so well as a rockabilly tune, but check this out. Taggy Tones' take is better than I expected.
---
Musik For The Kitchen
A swing version? Well, why not? This is great stuff. The old scratchy record popping sound effect in the background is a nice touch.
---
New Found Glory
This band has spent years tormenting my ears with shit like this, but I have to hand it to them for cranking out an excellent, powerful, straightforward cover of a punk classic.
---
Fucked Up and Moby
Next up: Titus Andronicus and Fatboy Slim cover the New York Dolls.
---
This guy
This…is why I love the internet.
Are there any notable covers of "Blitkrieg Bop" that we missed?