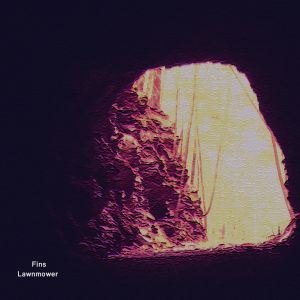 Noise rock — the bastard genre that can combine punk, hardcore, metal, feedback, and bad attitudes — seems like it's the perfect soundtrack for the times we live in, which explains why it's making a comeback in the underground.
Connecticut's Fins are a punky, noisy band that plays with spastic energy, enhancing their noisy freak-outs and outbursts of attitude. On their debut seven-inch, they make quite an impression — and quite a racket — that should puncture a few eardrums in their home state. But this is music that should be heard on a national level, as they are crafting some really great noisy rock that shouldn't be overlooked by any fans of the genre, regardless of their geographic location.
Side A opens with "Foxfire," which feature driving rhythms and tons of buzz-saw guitar, while the title track showcases some insane, unhinged ranting and feedback, which just adds to the madness on display. "HAGS," the first track on the B-side, starts off with shimmering guitars that eventually give way to ugly, thrashing guitar carnage. "Hold" ends everything on one spastic and manic note.
With this debut, the band has established itself as one of the promising upstarts in the national noise rock game. But on a more local level, I'm proud my home state is turning out more than just bad Arcade Fire clones and jam bands. This is something you need to hear.
(Obscure Me Records, 10 Ridgeland Road, Wallingford, CT 06492)