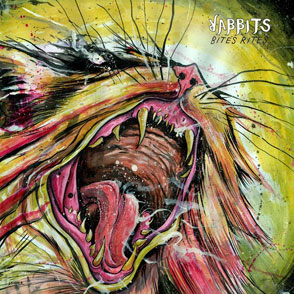 Whatever happened that caused this Portland band's dismissal from Relapse will seem like a major mistake after people get a listen to their Good To Die Records debut, because if anything, Bites Rites is just as good if not better than their debut Lower Forms. This is not to say that their first one was bad, but rather the new one is leaner, meaner, and more bloodthirsty than their debut. And at a scant 27 minutes and change running time, it wastes no time going straight for your jugular.
One good thing about Rabbits is that they always played more in the punk/hardcore side of the noise rock playground. The band does get heavy and sludgy, but at times the playing is agile and the songs contain memorable hooks, which is something you can't say for some of the other slow and ugly bands out there. Rabbits don't play pretty music, but there is a lot going in their songs, and if you need an album that will provide you with a catharsis, this one will do the trick.
"We And Zoo" opens with thundering drums and fuzz, followed by lyrics about throwing shit in people's faces. Let the misanthropy flow. "Lame In Vain" might first seem to be a dig at The Clash (and it probably is), but it also sends up Carly Simon's "You're So Vain," with shouts of "you're so lame" in the chorus. "Move Her Body" is hectic, thrashy, noisy hardcore punk, while "Meth Valley '99," whose title is a take off on Sonic Youth's, "Death Valley '69," is a dark, thumping hymn that manages to be catchy and menacing in equal measures. "Suck It Or Blow" splits the difference between doom and thrash.
They also include a couple of covers on this record. They take Spaceman 3's "2:35" to a darker and more disturbing than Sonic Boom and company could ever do, and they turn Husker Du's "What's Going On" into even noiser pop than the original.
Rabbits have upped the ante and delivered an album that avoids the dreaded sophomore slump. In fact, this record is so good, it stands toe-to-toe with other noise rock records that have come out in the past year to more fanfare.
(Good To Die Records, PO Box 70251, Seattle, WA 98127)