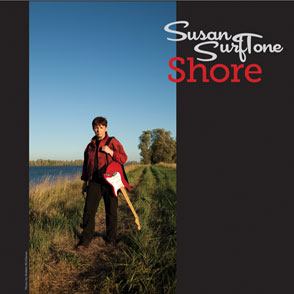 Shore,the first solo work by Susan SurfTone of Susan and the Surftones, takes me back to the first wave of surf music from the early 1960s. What SurfTone successfully does on her first independent album is construct a body of work that can stand on its own. The uniqueness of the instrumental genre is that the music can be extraordinary without the use of lyrics, a concept SurfTone achieves on Shore.
This album is perfect for fans of The Chantays, The Beach Boys, and Dick Dale. It is a continuous catalog of upbeat and mellow mod music — songs like "Jade" and "HuDu" are perfect examples of the mod culture, with a strong American surfer influence. SurfTone's cover of "Riders On The Storm" by The Doors personifies a different viewpoint of a classic rock and roll song. She puts a surfer twist on all aspects, adding rain effects and a calm maraca to the lead guitar and organ.
Susan SurfTone does a marvelous job on Shore with not only the rupturing guitar and percussion, but also the production. She is a musician who certainly knows what she's doing when it comes down to creating a musical composition. With this unique surfer music, SurfTone is keeping alive a genre that solely revolves around the importance of the music.
(Acme Brothers Records, no address provided)