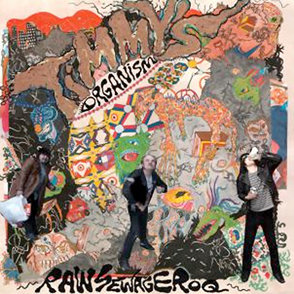 Timmy Vulgar has put out some very unhinged and dirty punk rock over the course of his career — whether it was as part of the Clone Defects many years ago, or more recently with Human Eye, he really knows how to play it loose and crazy, making a lot of his contemporaries look tame and boring by comparison. On his newest Timmy's Organism record, which is now being released on In The Red, he merges garage punk swagger with blasts of crazed proto-metal riffs and cutting bad-trip psychedelic rock to create a gunky, junky hybrid that just absolutely slays. This, my friends, is the real deal.
"Cats On The Moon" opens the proceedings with rolling bass and drums, and a guitar tone that sounds as if it were caked in mud. On this track, Vulgar sings about many of the trashy pleasures of living in the United States, and his commentary fits his aesthetic. "Bouncing Boobies" splits the difference between piano driven Rolling Stones-like raunch and swagger, and thrashy, fast-paced guitar carnage to form a garage-rock/hardcore hybrid.
"Monsters Walk" has a nasty riff that sounds like he nicked it from The Dictators back in the mid-'70s. "Poor And Bored" is a dirty hardcore punk track, while "Un-Hook My Leash," which could be a modern companion to the The Stooges "I Wanna Be Your Dog," is a sludgy and grimy treat, bolstered by some lacerating solos which cut through the muck like lasers. "Drunken Man" is a pseudo-ballad that speaks to Vulgar's lifestyle, and features more brutal guitar work and feedback freak-outs. The album closing title track is slow, low, and noisy.
This is just a small taste of the nasty treats on display on this disc. Vulgar manages to make garage rock unseemly and dangerous again. You should thank him by getting this record.
(In The Red Records, PO Box 50777, Los Angeles, CA 90050)