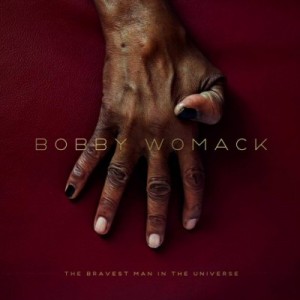 Bobby Womack has lived a storied life to go along with a career filled with its share of ups and downs as he dabbled in almost every imaginable genre of music. Known for his smooth, soulful voice, his mastery of the guitar and the ability to write incredible songs has helped him to make a career as a solo artist, in addition to numerous collaborations with others. Working with artists such as Sam Cooke, Aretha Franklin, Chips Moman, and Joe Tex, Womack has built up a mighty fine collection of music through the years.
Due to personal and health issues, his career has waned for some time, but now with things in order, he has returned with his first new album in years: The Bravest Man in the Universe, an 11-track powerhouse. While Womack's lyrics and soulful voice are the focal point of the album, they are framed perfectly by the myriad of beats, loops, and orchestrations implemented by Damon Albarn (Blur, Gorillaz). These two men from different musical worlds connect to make a great team.
While each tune brings something to the table, there are a few that stand out. On "Please Forgive Me," the classic soul sounds mesh nicely with the electronic grooves, creating an original tune with a classic feel, while on the title track they get a little funky with thumping rhythms underneath Womack's wailing voice. A haunting tune with sparse orchestrations, "Whatever Happened To The Times" is a testament to Womack's ability to last all these years.
The most impressive tune on the album is "Deep River." A gospel-tinged track, it consists of just Womack and his acoustic guitar. While being the most stripped-down tune offered, it is the most powerful of the album, and showcases Womack's musical skills.
The more you listen to this album, the more you will like it. Mixing classic soul and gospel sounds with today's beats and rhythms has created an album that is original and new. Hopefully this will not be the last we see of Womack and Albarn working together.

(XL Recordings, 304 Hudson Street, 7th Floor, New York 10013)