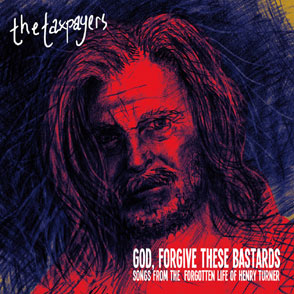 With the subtitle of "Songs From the Forgotten Life of Henry Turner," this album is a somewhat of a New Orleans jazz-punk concept album. With raucous horns aplenty, it's a joy to listen to from beginning to end, and as unique a record as you're likely to find.
Opening with the strains of some seriously good saxophone and ominously dramatic chords, opener "The Sun Beat Down" relishes in its drama. The urgency of the vocals and music catches you unaware as the lyrics recount grim situations. It segues into "Atlanta's Own," a punk and brass mash-up, transitioning quickly into standout "Who the Hell Are You."  The triple salvo of the album's beginning certainly impresses, and the rest is all killer as well.
In fact, one of the best aspects of God Forgive Those Bastards is the song titles, which read like a story. One of my favorites is "I Love You Like an Alcoholic," which perfectly conveys the song's strummed melancholy, sounding like a blues performance on a very lonely street. Similarly, "Hungry Dog in the Street" features some excellent lyrics ("My heart is alike a cancer/radiation wouldn't do a thing"), and despite the gloomy lyrical content, some well-placed horn gives it an oddly sunny tone.
Rarely does an album do so much with both words and music, yet seem so effortless. There is so much to enjoy over repeated listens.
(Asian Man Records, PO Box 35585, Monte Sereno, CA 95030)