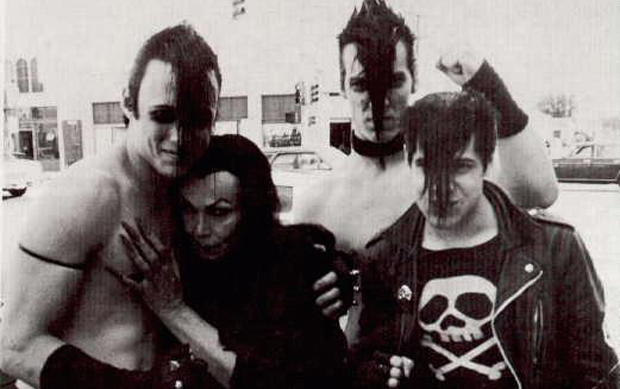 Even if you believe that the Misfits are not among the greatest punk rock bands of all-time, you'd have a hard time arguing with the fact that they're among the most iconic in the genre. The forefathers of "horror punk" and the devil lock, the band's skull logo likely eclipses the Minor Threat black sheep, the Descendents Milo character, and even the Black Flag bars as the most visible and reproduced punk rock logo of all time. Take a stroll through any skate park or shopping mall and you'll know what I mean.
Though the band's original run was long, long ago (1977 to 1983), the "Misfits" still exist today as a cobbled-together collection of over-the-hill musicians clinging to their face paint and name recognition. Oddly, with bassist Jerry Only as the only remaining original member, the band is now itself a cover band of sorts; a bizarre tribute to a group that existed a generation ago.
But the Misfits aren't the only ones covering the Misfits. Thanks to their status as punk rock icons — and the fact that they cranked out some amazing tunes when Glenn Danzig was at the helm — tons of bands have produced fan-pleasing versions of tunes such as "Halloween," "Hatebreeders," and "Die, Die My Darling."
However, no tune from the band's catalog seems to have been covered more than 1979's "Where Eagles Dare." For a band that produced so many catchy songs and memorable lyrics, "I ain't no goddamn son of a bitch" is apparently the one that made the biggest impression on those looking to pay tribute. Here are 10 versions to check out.
Superchunk
For the second year in a row, in October 2011 Chapel Hill's Superchunk released a cover of a Misfits tune. The studio version is excellent, and is available for download here.
---
Sloppy Seconds
Sloppy Seconds' straightforward cover of "Where Eagles Dare" is decent and listenable…which is more than you can say for most of their songs.
---
Michale Graves
So…here is a cover of a Misfits song performed by the guy who effectively replaced Danzig as the Misfits vocalist from 1995 to 2000. Have a listen to remind yourself why you don't own a copy of American Psycho.
---
Bratmobile
I was hoping to find more female-fronted bands to include on this list. Unfortunately, this is it. But if I could only find one, I'm glad it features the voice of Allison Wolfe.
---
Of Montreal
Oh god…make it stop.
---
J Church
Ah, good ol' J Church. This should clean the Of Montreal out of your ears.
---
Titus Andronicus
When Patrick Stickles of Titus Andronicus — or "Fucked Up II," as I think of them — sings, "Let's test your threshold of pain, let's see how long you last," it's like I'm being dared to try to make it through this horrible cover.
---
Atom and His Package
It has been said that a pop star knows they've made it when they're lampooned by Weird Al. Well, in the '90s, a cover by Adam Goren was like receiving a bizarre stamp of punk rock approval. Did you really think you'd make it through this list without seeing Atom and His Package? Like his cover of Fugazi's "Waiting Room," this version of "Where Eagles Dare" is a highlight.
---
David Pajo
David Pajo, the former guitarist of Slint, twists this aggressive Misfits anthem into a soothing lullaby — and it works perfectly.
---
The Nutley Brass
Think Pajo's version is the strangest version of "Where Eagles Dare" on this list? Take a listen to The Nutley Brass. The project of musician Sam Elwitt, The Nutley Brass has existed since 1992, and, in addition to producing this 2005 lounge music tribute to the Misfits, has also released an album of Ramones covers.
So…what did we miss?