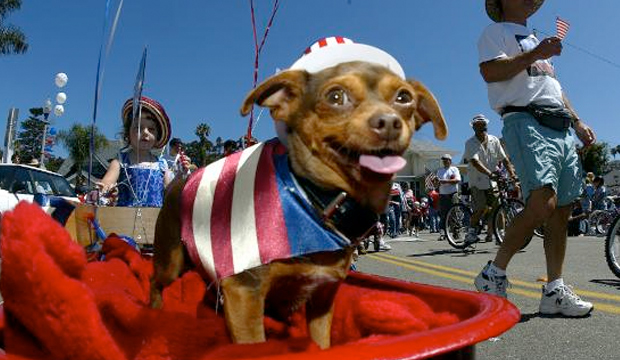 Like love and death, celebration is a common theme in music. And while it may be easier to find a myriad of Christmas songs performed by popular musicians, many have celebrated — or at least made mention of — the Fourth of July in their music. Here are five tracks to crank while you roast weenies and blow your fingers off with firecrackers.
Creedence Clearwater Revival – "Born on the Bayou"
While perhaps not entirely about the Fourth, this song still makes the list. John Fogerty's lyrics reflect the nostalgia that many of us feel during the midsummer: "And I can remember the Fourth of July/Runnin' through the backwood, bare/And I can still hear my old hound dog barkin'/Chasin' down a hoodoo there."
---
Elliott Smith – "Independence Day"
While Fogerty's wistful lyrics are tinged in sentimentality, Elliott Smith's lyrics stand in stark contrast: dark, depressing, and mournful for lost childhood happiness and innocence: "Future butterfly, gonna spend the day higher than high/You'll be beautiful confusion/Ooh, once I was you."
---
Soundgarden – "4th of July"
Soundgarden's major label breakout album Superunknown certainly contained its fair share of dark themes, and the underrated "4th of July" is no different. Describing an apocalyptic scenario, Chris Cornell uses the holiday as a metaphor for what seems to be the end of the world: "The fire is spreading/And no one wants to speak about it/Down in the hole/Jesus tries to crack a smile/Beneath another shovel load/…And I thought it was the end/And I thought it was the 4th of July."
---
X – "4th of July"
Lyrically, "4th of July" by X is just your run-of-the-mill song about unrequited love. However, the mournful vocals, beautifully backed by Exene during the chorus, make this a perfect song to crank on the Fourth — or any day when you feel like wallowing in self-pity: "On the stairs I smoke a cigarette alone/Mexican kids are shootin' fireworks below/Hey baby, it's the Fourth of July."
---
Minutemen – "I Felt Like a Gringo
One of my all-time favorite Minutemen songs, "I Felt Like a Gringo" is a self-conscious confession of sorts by D. Boon relating a story about how he got drunk and embarrassed himself at a tourist bar in Mexico. On July 4, 1982, the band took a day-trip to Mexico — the same day the country held an election for their new president: "I asked a Mexican who ran a bar for Americans/'Who won,' I said 'The election?'/He laughed, I felt like a gringo/They played a song and they had some fun with us."
Boon continues, "Why can't you buy a good time?/Why are there soldiers in the street?/Why'd I spend the Fourth in someone else's country?"
Honorable Mentions:
Bruce Springsteen – "Independence Day"
Ani DiFranco – "Independence Day"
U2 – "4th of July"
So let us know: what did we miss? What are your favorite Fourth of July songs?