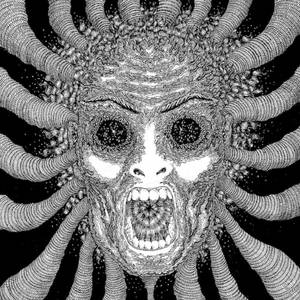 Bursting forth with noise, Ty Segall Band's Slaughterhouse is strong right out of the gate, setting the stage immediately with '90s grunge and late '80s noise rock that will weave in and out of the psychedelia we've come to expect from Segall. On the title track, Segall yelps, "I want a slaughterhouse!" over a buzzsaw progression. The track invokes at least three genres in slightly more than a minute and a half, and Segall lets out a primitive howl before the band suddenly conjures the sound of The Kinks for the next song. And just like that, Segall's got us in his palm.
Segall's trademark 60's-flavored hook-laden punk can be found on this album (on the deliciously poppy "Muscle Man," "Mary-Ann," and "The Tongue"), but this time the recordings benefit from maintaining the effect of his blistering live performance which, as of late, he's been delivering with the touring band comprised of his friends Charlie Moonheart (of The Moonhearts), Emily Rose Epstein, and Mikal Cronin. The result is the satisfying sound of Slaughterhouse, which includes everything from mistakes, directions like "extra fast," and laughter due to the tacking-on of a guitar solo as a song fades out just because he feels like it.
This loose, urgent feel is illustrated perfectly by the choice to including a growling, tweaked-out cover of The Fabs' (via Fred Neil) "That's The Bag I'm In" as a preamble to "Diddy Wah Diddy"; sped up and water-tight, these additions don't come off as pastiche but as a nod to rock 'n roll in its rawest and most pure form.
The magic of the first official release by the Ty Segall Band is that it is uncompromising and experimental — but completely cohesive. Managing to include all the ooh's and ahh's you'd want from a Ty release, it also boasts improvisational noise, chord progressions that sound lifted from In Utero or a Melvins record, and back-to-back classic garage covers, presented as effortless narrative. Slaughterhouse not only gives us these elements as if they've always belonged together, but as if they've always belonged to them. And, of course, you can dance to it.
Adding hard rock to the equation would seem to some like adding oil to water, but when the band ventures into heavy territory a la Big Black you can also hear influence of Over the Edge-era Wipers, and it doesn't feel like too far a stretch. And with all the bubble-gum coming out of Oakland lately, a big bucket of punishing sludge comes as a welcome addition.
Slaughterhouse sounds exactly like what it is: a record made by a tireless, prolific consumers and creators who grew up watching MTV in the 1990s. It is also the sound of one of the most proficient live acts in music today. You can choose to take the ride or not —  sensibilities permitting — on the album's last track "Fuzz War." Opening with an "Iron Man" drone, this minimal dirge manages to clock in at 10 minutes of ambient modulations of feedback and unraveling noise with some percussion sprinkled in as punctuation. Comprising a full 25 percent of the record, it is a task to endure, but as the soundscape to the Ty Segall Band's sonic killing floor, you might want to sit back and listen.
(In The Red Records, PO Box 50777, Los Angeles, CA 90050)