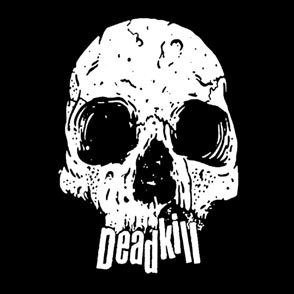 Hardcore punk has seen a bit of a resurgence in the past few years. It is a time to be angry, and bands like Seattle's Deadkill — comprised of scene vets from such bands as Himsa, Absolute Monarchs, The  Meices, and Whiskey Tango — are the right guys to provide the soundtrack to crazy times.
On their debut seven-inch, Deadkill prove that hardcore is alive and well. Side one opens with the raging, surfy twang of "Oh God Help You," in which lead ranter Bryan Krieger throws out not-so-veiled threats against an antagonist. "5150" ratchets up the noise and lives up to its title (police slang for an "involuntary psychiatric hold" — and not a bad Van Hagar album either). Side two opens with "Outta My Head" and closes with "Rip Off," two brief, intense tracks.
This record is a great introduction to the band, and makes you hope that they don't wait too long to follow this up with a full-length album. But for now, it's time to rage, and this record provides the ultimate sounds to let off some steam.
(Good To Die Records, PO Box 70251, Seattle, WA 98127)