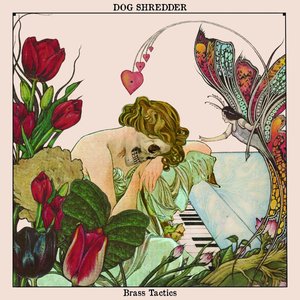 This Bellingham, Washington-based trio plays spastic semi-instrumental rock that will dazzle you while subsequently kicking your head in. Over the course of three tracks on this one-sided 12-inch, the band displays the sort of out-there, left field talent that should win them many fans of the crazier side of metal. For comparison, think of these guys as a louder, busier, and "proggier" version of the Fucking Champs, combined with the time-signature shredding and odd jazzy solos of the Dillinger Escape Plan. The sparse vocals are buried a bit in the mix, making the instrumental work shine even more.
Part of the appeal of this band is listening to them as they try to make order from chaos, yet never quite succeed. It always feels as though they are about to run off the tracks, but somehow they always pull it back before making a discordant disaster.
"Battle Toads" opens the record with noisy signatures from guitarist/vocalist Josh Holland, and then takes the listener on many twists and turns, making this some of the most burly prog you are likely to hear all year. "Battle Snakes" sneaks in more traditional, thrash-like riff into the process. The EP closes out with "Battles 07" which is basically a straightforward ambient doom track, filled with booming drums, eerie keys, minor key guitars, and Holland's distorted vocals. It's a bit of a departure from the other two tracks. and serves as a comedown to the rest of the record's spazzy energy.
All this adds up to an excellent follow-up to the band's debut EP Boss Rhino, and should break the band to a more national following. Why should they stay one of the Pacific Northwest's best kept secrets any longer?
(Good To Die Records, PO Box 70251, Seattle, WA 98127)