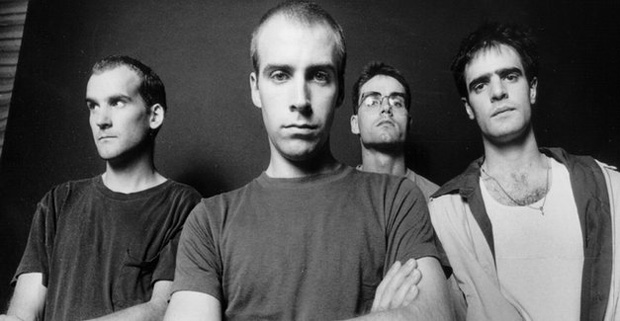 During the band's 15-year run, Fugazi cranked out seven full-length albums and hundreds of incredible songs. Yet it would be the very first track from their 1988 self-titled debut EP that would remain their hallmark. Short and simple, with a catchy bassline and a chugging, muted guitar riff, "Waiting Room" is to Fugazi what "Smells Like Teen Spirit" is to Nirvana — the one song that you know, even if you know no others.
In the quarter-century since it was first performed, "Waiting Room" has become a go-to song for rock bands looking to ingratiate themselves to an audience and gain some cred, as well as those simply wishing to share their love of a band that flies under the radar of the mainstream. Here are 10 notable covers.
Red Hot Chili Peppers
The Red Hot Chili Peppers made their cover of "Waiting Room" somewhat of a staple during their sets in the mid-'90s, and while Anthony Kiedis's clean, instantly recognizable voice is hard to dislike, it's also hard to keep yourself from cringing as he strains to belt out the chorus. Still, you have to imagine that by paying tribute to a band that they clearly admire, RHCP introduced Fugazi to legions of new fans — plus, you've got to love Flea's nasty rendition of the familiar bassline.
---
Mustard Plug
Had Fugazi formed in Southern California in the early- to mid-'90s instead of in Washington, DC in 1987, I imagine the original version of "Waiting Room" would have sounded something like this.
---
TV On The Radio
Stylistically, hipster darlings TV On The Radio are very different from Fugazi. Yet rather than trying to make this song their own by giving it a unique touch, the band performs what is essentially a straight rendition (with the addition of a trombone). The results are less than impressive.
---
Jimmie's Chicken Shack
First, I'd like to apologize to anyone reading this article for reminding you that Jimmie's Chicken Shack exists. Second, I'd like to point out that this cover actually isn't half bad.
---
Rancid
Lars, your heart is in the right place. I know this is supposed to be an homage to a great band and, apparently, your friend. But before you dive headfirst into a cover song, don't you think you should learn the lyrics and the chords?
---
Lev
This rendition of "Waiting Room" comes from the Italian digital compilation album You Have No Control: A DIY Tribute to Fugazi, released in 2010. The album, available for free download, features 15 covers performed by underground Italian artists, each providing a truly unique take on the song they cover. The comp was lauded by Ian MacKaye, as well as bassist Joe Lally, who now calls Rome, Italy home.
---
Billy Talent
Hey, nothing says "punk rock" like MTV and Pepsi, am I right? If you can make it a full minute into this video then you're a stronger person than I am.
---
Bang Camaro
Good show, Bang Camaro. This is a solid cover. It's just funny to me that it takes 17 of you to perform a song that originally only required four people. And even then, Guy mostly just flailed around and wrestled with stage crashers.
---
Atom and His Package
Adam Goren, AKA Atom and His Package, frequently performed "Waiting Room" at his live shows, and even recorded a version that was released on his 1997 album, A Society of People Named Elihu (which included the anthem "Punk Rock Academy"). Amazing. Fugazi's rendition of their own song is actually the second-most punk version out there.
---
The Blue Ribbon Glee Club
The Blue Ribbon Glee Club is a Chicago-based a capella group who perform covers of classic punk rock songs. Need I say more? This was without a doubt the best surprise I found on YouTube. The fact that this rendition is perfectly set to a video of an early performance of the song by Fugazi makes it that much better.