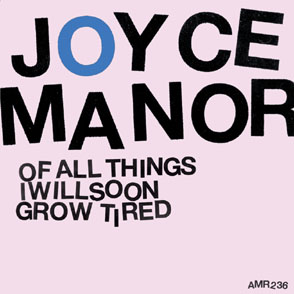 Joyce Manor released their self-titled debut album in 2011 to positive reviews from punk websites, including the distinction of "Album of the Year" from Punknews.org.  The debut featured nothing but straightforward pop-punk songs reminiscent of the late '90s and early 2000s.  Their new release, Of All Things I Will Soon Grow Tired, sees the band significantly branching out from the style they had previously established. In a way, though, this may be the product of the band looking backwards as much as forward.  Currently a four-piece, Joyce Manor originally began as an acoustic duo.
Of All Things shows a pop-punk band aspiring for much more, with generally good results. "Drainage" is the biggest departure in style, a quiet acoustic guitar and piano piece, with an ambient fuzz to it that sounds homemade, like it was recorded directly into a laptop with no microphone. "Bride of Usher" sounds like their attempt to do a song in the style of the first couple Cure albums. "Violent Inside" and "See How Tame I Can Be" find a middle ground between punk rock and the quiet tracks.
However, the album is at its best when it sticks to the loud and fast punk format that brought Joyce Manor attention in the first place. "If I Needed You There" and "Comfortable Clothes" are the sort of incredibly catchy, hook-driven punk songs that easily get stuck in your head. Of course, it just wouldn't be a pop-punk album without doing a punk cover of an old pop song, and Joyce Manor does the 1979 New Wave anthem "Video Killed The Radio Star."
The nine songs on the record are all pretty short, and I found myself wanting more when it was over. I greatly enjoyed the record, but I was left unsure if the punk enthusiasts who rallied behind their homogeneous debut would enjoy the slower and quieter tracks.
(Asian Man Records, PO Box 35585, Monte Sereno, CA 95030)