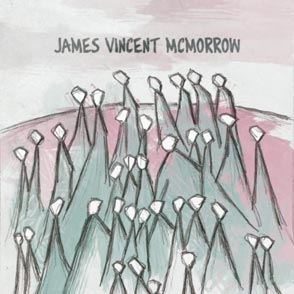 Only five songs in length, James Vincent McMorrow's newest digital EP highlights the singer-songwriter's melodic voice and lyrical abilities. We Don't Eat is a mixture of live versions of tunes from his debut album, as well as a couple of covers.
The live version of "If I Had A Boat" may be the best track on the EP. Starting slow and mellow, it lulls the listener into a false sense of relaxation before exploding and rattling their brain. There are two live versions of "We Don't Eat," the first performed by McMorrow on an acoustic guitar, and the second with full-on backing instrumentation. Each offers a different take on one of his best written tunes.
McMorrow has a little fun on the EP with covers of "Higher Love" by Stevie Winwood and "Wicked Game" by Chris Isaac. Armed with just his voice and an instrument of choice, he delivers very sparse and beautiful renditions of these two classic tunes. When an artist releases an EP it usually as a stop-gap between albums. It can be a money-grab with mediocre music, or a collection of quality unreleased tracks. We Don't Eat falls into that last category. Give it a listen and treat your ears to a nice collection of tunes.

(Vagrant Records, 5566 West Washington Boulevard, Los Angeles, CA 90016)