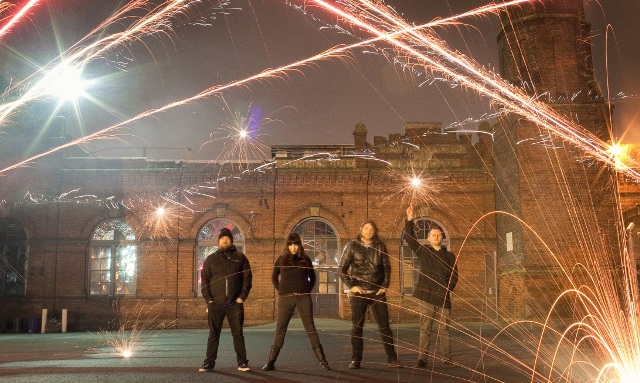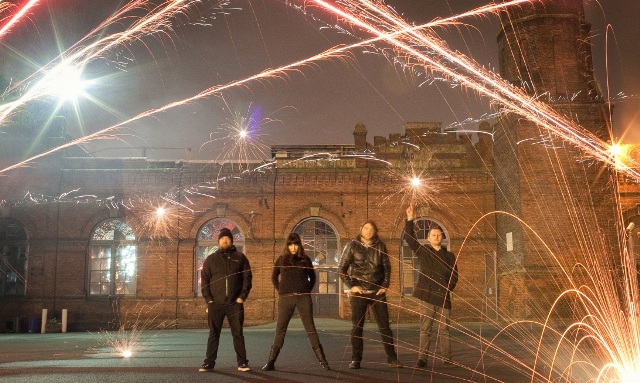 The Absolute Monarchs are another awesomely loud group from Seattle. Born two years ago, the band merges such great sounds as post-punk, post-hardcore, indie rock, and a little pop into a hard-driving din that is totally their own.
The band is preparing to release their debut record 1, produced by Matt Bayles (Mastodon/Russian Circles/Minus The Bear), on their hometown's own Good To Die Records on April 17th. The band which consists of Shawn Kock (guitar), Miki Sodos (guitar) Mike Stubz (drums), and Joel Schneider (vocals/bass) have made a stunning debut. Hell, Spin and NPR have already mentioned them as a Northwest band to watch — and now we're telling you.
How has the band's sound developed since its early days, or since the EP was released?
Mike Stubz: In the early days, we had a little less traditional approach, with just two guitars (one dropping and playing glockenspiel), keyboards, and drums. Time passed and Joel's hatred of keyboards grew, so he started playing bass on the new songs and finally we dropped the keys altogether. Other than that, we haven't changed a thing since the demo EP. We did take a major step up with the quality of recording, though — working with Matt Bayles will do that. He is awesome!
You have a very unique sound that touches on many different genres such as post-hardcore, the noisier side of indie rock, and shoegaze. How did you arrive at your sound?
Shawn Kock: Personally, I've never learned a song by another band and I'm a terrible listener, so an arrival at a sound is an exercise in sporadic listening and muscle memory.
Miki and Shawn have great chemistry together as guitarists. How did they develop this chemistry? How did the band develop this two-guitar attack?
Shawn: I was dating Miki's sister, and she had just started playing guitar like a year before we met. I would get drunk at home and plead with her to come out of her room and play with me so I could write songs. It was a pretty seamless idea to keep moving forward with her after that. She was patient, had good ideas, and picked up the parts [quickly].
What is the band's songwriting process? How are the ideas turned into songs?
Mike: Shawn will usually be playing a guitar part and then I'll say, "What was that? play it again." If it works, then we'll start working on it for a bit getting it together, and Joel just comes up with a bass line. Vocals seemingly out of nowhere to wrap it up. Joel has a real easygoing knack for knocking it out. The process is fairly painless these days compared to the beginning, when we pretty much beat a song to death and agonized over every note.
What made you decide to release your debut full length on Good To Die?
Mike: Well, Nik from Good To Die believed in us before anybody else did, and we believe in Nik and what he's got going with [his label].
What are the future plans for the band once the record comes out? Will you be touring?
Mike: When the record comes out in April we are going to do support with a bunch of shows and some radio stuff around Seattle and the Pacific Northwest — but it'll be business as usual, playing shows when we can. As far as a tour, it's complicated; we will try and do something down the West Coast or elsewhere this summer, if the right situation presents itself. We all have other parts of our lives that make it hard to work out a tour, but we will try and take our shots when they come up.
How do you think the mentions in Spin and NPR effected the band? Do you think it affected people's perception of the band in the Seattle scene? Do you think these mentions had a positive effect on you?
Shawn: We are grateful for any regard, but as far as being mentioned in Spin, I don't think it has had any effect at all, internally within the band, or externally out in the scene. It's always rad to get mentioned in a positive way. It's the first I've heard of the NPR thing, though. I like NPR, so that's cool.