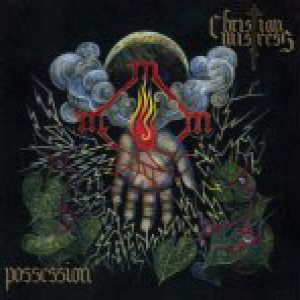 When this Olympia, Washington-based band released their debut EP Agony & Opium a few years ago on 20 Buck Spin, there was a lot of hype surrounding them from various respected members of the metal community. Luckily, the band delivered a selection songs that justified the hype. On that EP, the band played to its strengths, which are vocalist Christine Davis's, dusky, earthy, and evocative pipes and the dueling guitar interplay of Oscar Sparbel and Ryan McClain. It also helped that none of music seemed forced. The metal just flowed naturally out of them without any gimmicks or tricks, which isn't something you can say about some of the bands in the latest metal movement.
The band's second album, Possession, finds the band on a bigger label in Relapse, and building on the strengths established on their debut. Sure, Davis's vocals are still killer and Sparbel and McClain still shred out a storm, but they have added depth and nuance to their songwriting, which clearly shows the band making monster strides up the proverbial metal mountain.
Opening track, "Over & Over", is a straightforward high energy rocker that gets your attention right off the bat. It most resembles some of the more straightforward songs on the first album. But after that they throw in a curveball in the second song, "Pentagram & Crucifix," which is a slow burn of number that showcases a deeper side of the band. The title track plays it slow, low, and doomy, bolstered by some catchy vocals from Davis and some crazy guitar play from Sparbel and McClain.
They also manage to break out the acoustic guitars on a few tracks. On "The Way Beyond" and "All Abandon" it's used as an intro for the electric follow. The former breaks into a high energy boogie-type strut after the intro, while the latter goes speed metal on your ass with some crazed guitar pyrotechnics. "There Is Nowhere" intertwines the acoustic with the bass and drums on the verses, before going all electric on the chorus to create a nice mixture of light and heavy sounds. It's their version of the ballad and it kicks ass.
If this rate of growth continues, then by album number three they should be dropping a stone cold classic. But as it stands, Possession shows a band in ascendancy mode, dropping a killer dose of metal effortlessly and with a ton a style. You'll want to stick along for the ride.
(Relapse Records, PO Box 2060, Upper Darby, PA 19082)