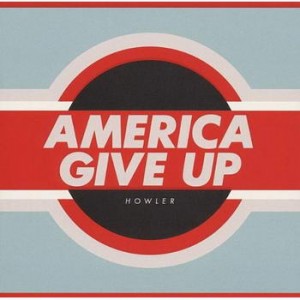 The first 34 seconds of Howler's "Beach Sluts" will determine whether you want to continue listening to America Give Up, their debut, or pour a gallon of Clorox into your ears to cleanse your senses. For me, it was the former, but it wasn't due to some foreign impulse — I was hooked, inebriated by the fuzzy grime of it all.
Howler sounds a tad caustic, but only for their lo-fi production. The music is moneyed with hooks and wealthy in glass-eyed beach pop. The guitars are muddy and frisky. The vocal delivery is goofy-yet-authentic. Sound like a group of fresh-faced Minneapolis 20-year-olds? Well, it is.
At least, that's leader Jordan Gatesmith, whose effortless whine often dips into a low bellow, though nothing resembling the band's interesting name choice. He's not as neurotic as Rivers Cuomo, but his band veers toward "Blue Album" power-pop a dozen times on America Give Up. "Back to the Grave" sounds like Weezer supporting a coked-up Julian Casablancas. Twinkly lead single "Back of Your Neck" is college-radio ready with its Girls and Smith Westerns sound-alike status.
Tied for best track are "America" and "Free Drunk," the latter a murky rhythmic squall in which Gatesmith murmurs about finding a girl as if he's in the titular stupor. The peppy "America" is bolder and more coherent, breaking off after two-and-a-half minutes for a killer coda where Gatesmith repeats "I give up" until there's nothing but the squeal of feedback.
Whenever a band starts out at such a young age, there's always the potential they'll get better. The guys in Howler don't need any guitar lessons, though. They've captured the spirit of youth; now let's see what they do with it.
(Rough Trade Records, 66 Golborne Road, London W10 5PS UK)