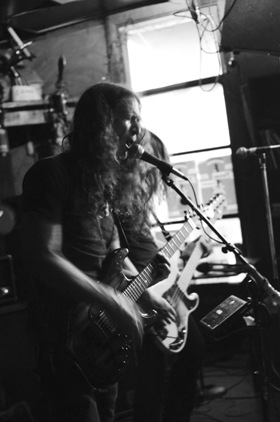 The metal show at Lovejoy's on Saturday, March 17th helped to round out my musical diet for SXSW.
Doom act Pallbearer were first up. Slow and melodic, the band has a rather Nordic sound; provocative dissonance that takes you to other worlds.
The Atlas Moth followed. Right off the bat, the band hit the audience with a stoner metal wall of sound. The mood was enhanced by the lit incense stage-side that complimented the swirling guitar riffs. The two guitarists complemented one another perfectly, never venturing into the realm of self-indulgent guitar solos that many metal bands go to. Despite performing dark, gloomy tunes, vocalist Brett Campbell was the first person I saw at SXSW thank the crowd with a smile on his face.
Next up was Nachtmystium, a psychedelic black metal band from a suburb of Chicago. They started off pumping the double-bass and didn't stop until the show was over. Though they use the double bass kicks throughout each song, Nachtmystium does a nice job of setting themselves apart from other metal bands instrumentally, creating melodies with a spooky and unsettling psychedelic flange that would make Burzum proud.
Last up were the melodic folk-metal band from France, Alcest. The first thing that I noticed was that one of their guitarists used open chords, while his companions picked up the slack elsewhere on the fret board — reminiscent of Opeth. Alcest was heavy, but simultaneously beautiful. Their songs were arranged with an attention to aesthetic that most metal bands don't have. Most of their vocal melodies were sung in a high-pitched manner similar to Bon Iver, harmonized with keyboards in a way that would appeal to people who don't consider themselves metalheads.