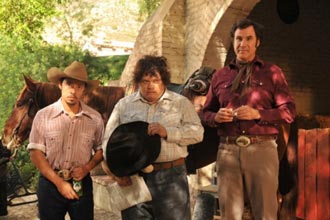 NALA Films
84 min., dir. by Matt Piedmont, with Will Ferrell, Genesis Rodriguez, and Gael Garcia Bernal
No one should expect anything normal anymore when Will Ferrell is attached to a comedy. Stretching a little further out of the box than one may expect, Ferrell and company deliver a feature-length telenovela-style Spanish language comedy in Casa de mi Padre. While there's something inherently charming and likable about the film, it fails to deliver many laughs.
As the heir to his father's cattle ranch, Armando Alvarez (Ferrell) is content with his life. His father sees him as somewhat of a dimwit, and he isn't that far off. When Raul (the smarter son, played by Diego Luna) arrives back home with a new fiancee and some flashy toys, the calm life of the Alvarez family is put in danger. Raul has started a career in the drug trade, embroiling his family in a war with rival kingpin La Onza (Gael García Bernal) and even the DEA. Armando is the last person anyone would expect to right the wrongs, but it's up to him to save his family's home.
That description makes this film sound pretty serious — Casa de mi Padre feels as though it was once meant to be something different, like someone wrote an actual dramatic crime film that was transformed into one long "SNL" or Funny or Die skit. The issue here is that the parts of Casa de mi Padre that are most enjoyable are the serious bits, not the comedy.
What I expected to be packed with laughs is instead merely sprinkled with chuckles. Each scene is a tiny skit that just ties into one whole story. As a new scene/skit begins, it tickles the funny bone a bit, then proceeds to drag out as long as it needs to make a story, killing the joke in the process. While I can't point to a feature length film of this kind so easily, all the jokes are fairly blase, leaving the entire experience underwhelming.
Ferrell might not have a perfect accent, but he holds his own with the delivery. He's not here to make fun of the language or nationality — this is simply a satire of the telenovela niche. His dedication to actually seeming as natural as he can works well. When they're not making a joke or using plainly fake backgrounds, the film is actually quite beautiful and breathtaking. Most aspects of Casa de mi Padre work, oddly, except for the comedy. The only real constant of the film is Gael Garcia Bernal as the evil La Onza. Besides being the center of the funniest scene the film has to offer, Bernal's persona is constantly silly and humorous, even in his most serious moments.
I really wanted to like Casa de mi Padre. It seems that it shouldn't have to try much to elicit laughs, but it tries too hard with little effect. The dedication that went into making an authentic-looking joke should not be overlooked, but the worst thing you can say about a comedy is, "Well at least they tried."
—
Matthew Schuchman is the founder and film critic of Movie Reviews From Gene Shalit's Moustache and also the contributing film writer for IPaintMyMind.