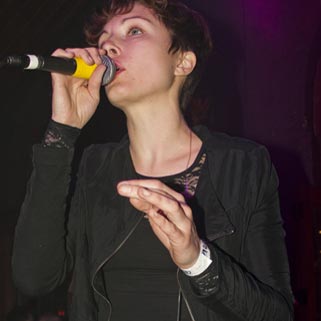 After arriving at SXSW on Tuesday afternoon, I has my obligatory breakfast tacos from my generous Austin hosts. I figured that, since the conference and music was just getting underway, it would be a good idea to see Santigold before the majority of festival-goers arrived.
However, the line for badges and wristbands wrapped around the block. I quickly learned my mistake of not arriving early for a popular show at SXSW, and had to make a new plan.
Fortunately, I was easily able to see Bear in Heaven perform at the Mohawk. The band started their first song but abruptly stopped halfway through due to instrumental and sound problems. They got their shit together, and though the reverb on the vocals was still too much, instrumentally Bear in Heaven sounded great. Stylistically, the band switched things up quite a bit, from bass-driven songs and instrumentals to shoegaze, while lead man Jon Philpot juggled synths, guitar, and vocals.
At their best, the band evoked the Talking Heads mixed with The XX; During their off moments, the music they produced sounded more like drugged-out minimalist disco. I didn't find Philpot's random comments — "Next time I won't fuck up the foot pedal part" — to be very cute. Maybe with less alcohol and attitude, Bear in Heaven could be great.
After the Bear in Heaven set concluded, I headed over to Bat Bar to catch Poliça. Being front row for their set was surreal. The stage is extremely small and rises only a few inches above the bar floor. The doors and windows of the venue were open, allowing those without wristband's to enjoy the music from outside. Following a lengthy soundcheck, Poliça launched into their set, featuring two drummers who complemented on another perfectly, despite the difficulty the band professed in hearing their monitors. With each song, the band performed with increasing intensity. The vocals were crisp and the instrumentation was perfect — Poliça nailed every drum fill, bass line, and high note. It was a great treat to start off SXSW on the right foot.