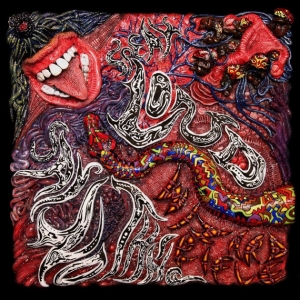 This Portland, Oregon-based duo, which consists of drummer/vocalist Sam Ford and guitarist/vocalist Max Dameron, makes a lot of noise for a two-piece, blending many different types of loud rock to fit their own twisted purposes. The music they create is exciting and full of energy, never falling into the turgid or boring categories like some of their contemporaries.
Album opener "Tears Won't Soften Steel" features some cool skronk from Dameron and some manic drumming from Ford. This track is all about momentum; it builds to a crazy pace and just stays there, setting up the listener for what is to follow. The next track, "Frazetta," shows the band getting nerdier than MC Chris at a comic book convention with some noise-rap vocals about a certain famous Cimerian who has been worshipped by the metal community for years. Luckily, the band also packs this track with some hard-hitting noise rock, too. The gentle intro of  "Megatherium" gives way to a full-on Sabbath plod, which in turn gives way to some crazy Fripp-like craziness at the ending. (Think King Crimson in their dark and heavy "Red" phase.) "Nobody" continues the Sabbath worship introduced in the previous song, while closer "Leathery Gentlemen" throws all the band's musical quirks at the listeners into one monster 10-minute jam.
This is an excellent debut, marking the arrival of another major talent in the recently rejuvenated noise rock scene. There has been a mini-resurgence of this type of music in the underground in the past few years, and Wizard Rifle definitely make their claim as a promising addition to this rediscovered genre. This is for fans of the weird, wonderful, and loud side of heavy rock.
(Seventh Rule Recordings, PO Box 42639, Portland, OR 97242)