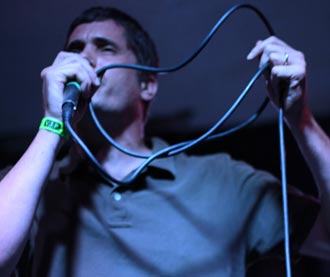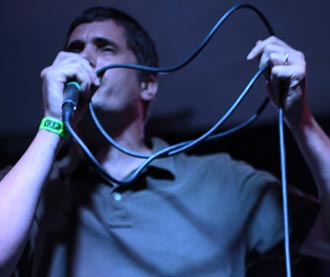 Jesse Michaels, the man behind Operation Ivy, Big Rig, and Common Rider, released his first LP with his current band, Classics of Love, on February 14, 2012 via Asian Man Records. The 13 new tracks feature Jesse's powerful lyrics and familiar intensity set to fast-paced punk, hardcore, and occasional ska riffs.
Jackson Ellis and Chris Connal had the chance to speak to Jesse about the new album and gain some insights to his creative process.
Jackson Ellis: Lookout Records, the label responsible for unleashing Operation Ivy records on the world, officially closed in January. Though I believe your last dealing with them was the release of Common Rider's Thief in a Sleeping Town vinyl back in 2001, you had a relationship with the label that spanned nearly 15 years (and several owners). What was your reaction to the news of the label's closure? Do you think it's emblematic of a changing punk rock scene, or just simply a casualty of a rapidly shifting music industry?
I was basically relieved and happy for them. I think they should have done this 10 years ago. I like them, even though at times I took losses because of their missteps.
I don't think this is emblematic of a shifting music industry. Their troubles started way before the industry shifted seismically. Basically, it's a story that has been going on since the early '80s: an indie label gets some attention and [they release] one or two hot records, and they begin to think in terms of larger markets. The larger markets demand more expenditures, and [the label] gets ambitious. Then they find that returns don't match expenditures, and expenses pile up. I mean, I only know a little about this stuff, but that's the general run-down. I like all the Lookout people, and don't have any lingering bad feelings.
Jackson: The Classics of Love full-length, as well as the debut EP, are both out via Asian Man Records. What is your history with the label and its founder, Mike Park? Am I correct in assuming that you first met when Common Rider played the Plea For Peace tour back in 2002?
I actually met Mike Park when the same tour came through Florida in 1998 or so. I just thought he was a super nice guy. He's very funny and earnest — basically, everybody loves Mike.
Later we hung out a little, and he got interested in Common Rider and invited us on the tour. There I learned that he has a black heart of sheer cynicism behind all the hugs. That made me like him even more. (laughter)
He has just backed up this band way more than could be reasonably expected. Touring with him in England sealed the deal. He's such a funny person, but very good-natured and hardworking.
Christopher Connal: Prior to joining you and forming Classics of Love, your band was known as Hard Girls. How did you start playing music with them?
Well, that isn't exactly accurate. There was a band called Hard Girls that still exists. I went out there [to San Jose] and Mike hooked me up with them. They are super bright, nice guys. They are also complete goons. I mean they are ridiculous. There's a lot of grab-ass and tomfoolery in this outfit. I am pretty sure the drummer, whatever his name is, is mentally ill.
Anyway, it worked out with them. I get credit for everything, but the band is very collaborative. It's not me and a backing band, it's the real thing. This sometimes gets overlooked because of my history.
Chris: You played guitar with Common Rider — has this carried over to Classics of Love? Do you play any of guitar on the new album and at shows?
I play guitar to write songs, but the truth is I'm no damn good at it. I can get by. One day, Classics had a technical glitch and I couldn't play guitar at a gig in England. I had been playing up until then, but all the amps were malfunctioning. So I did the set just singing. It was liberating and we stuck with it. Things are way better when I am loose. So that's how it worked out. I still write stuff on guitar and show them stuff — they are very patient. I play well enough to communicate ideas.
Chris: I do not anticipate much touring for Classics of Love. Do you dislike the traveling aspect of touring, or playing so many shows in a short period of time?
I don't like traveling, and I have to build a life outside of music. So I go to school and do other things. I am a writer and an artist and a student. Touring fucks it all up. Also, my voice cannot take it. I can get away with short jaunts, but it gets blown out and doesn't recover if I play shows for more than about a week. Touring in a serious way is over for me, but not playing live.
Chris: The new full-length album is really great, and I hear a lot of Wipers influence, especially on the last song, "We Need a Change." Musicians have been citing Greg Sage as an influence for 30-plus years now. For you, who — or what — has remained a constant source of inspiration over your 25 years of songwriting? What, if anything, has changed in your songwriting throughout the years?
I am definitely a Wipers fan. The things that remain constant sources of inspiration are very odd — usually small, remembered ideas. For example, there was a local Berkeley band called Intensified Chaos, and I remember reading the lyrics to one of their songs and being absolutely blown away. When I remember that feeling, I can write political lyrics because I have an aesthetic idea to work with.
Really, I pull stuff out of lots of remembered ideas. On this album, inspiration came from many different sources: The Clash, Black Sabbath, Negative Approach, Jerry's Kids, Minor Threat, The Selecter, Stiff Little Fingers, Articles of Faith, Naked Raygun. Actually, the Wipers were more of an influence on the first record. I do count the Wipers as an influence — the singer for that band is very honest in his voice and lyrics. He's a gem.
Jackson: Your lyrical output, spanning your entire history as a musician and performer, has been described as "political" and "revolutionary." I think that while those descriptions are fair — and can be applied to countless punk rock bands spanning the years — I've always felt that your words simply reflect your observations of a world that can be cruel and unjust. The political slant seems to be a by-product. What would you say primarily drives your lyric writing: politics, or personal ethics?
I would say your assessment is right — I am not very political. The songs come from feelings, not ideas. But the feeling gathers ideas around it. A lot of the music is about unfairness. Some people would say the lyrics are negative because they list a lot of grievances, but there is a tremendous positive aspect to simply telling the truth. I feel that my lyrics are truthful about unfairness.
Also, it's what I observe. People of power and wealth create institutions and legal apparatus to drain everybody else of their life energy. No big news, right? I mean, it's talked about in ancient literature. I have other things I bitch about also, but that's a major theme on the new record because of everything that is going on right now with the so-called financial crisis, which was more or less just one rip-off after another.
This kind of stuff is just what I am good at. If I was better at writing techno dance stuff, I would do that. You go where the inspiration is. It's not completely a choice.
Jackson: You mentioned in a recent Giant Robot interview that working on music and "the [songwriting] process can be soul-destroying." However, isn't having a creative block far more damaging? Or is that what you're referring to, the struggle to get words and music out of your head, and the mental blocks that can come with it?
Well, when I work on stuff I get a big surge of creative energy. If you do it too much when you aren't in great shape, you get drained and weird.
When I was in my 20s, I didn't have the personal strength to absorb big rushes of creative energy. I mean, it can be an overwhelming and obsessive experience. So, I didn't do it much. Now it's much easier and I am able to control it. I don't know how to explain it exactly. I have seen artists of various kinds get all fucked up because the creative process they are working with is bigger than them. Often, they use drugs to counter the crashes, and then the whole thing just turns into a big mess. But when you are in good shape physically, spiritually, and emotionally, you can sustain it, and it's fun.
Chris: Do you find yourself writing a lot of material in between your musical endeavors? Or do you write a bunch of new material when you start a new band?
I generally write when I am in a band. It used to be different because I had more time on my hands. Now I write when I have to. It's better this way. I write better stuff when I am feeding off the other band members and also when there is a goal. One thing I have learned is that it works better to collaborate than to woodshed alone. You go to practice, see what works, then come home and write some more stuff to throw at the wall.
Jackson: Prior to forming Classics of Love you were performing solo. Any chance you may release a solo album at some point — acoustic, singer-songwriter-type stuff?
It is possible. I have a lot going on right now. I'm trying to narrow stuff down more than take on new projects. I have a country band called Passage Walkers that has been doing stuff. I have written a novel. I have started doing art shows. Sometimes I feel like a gardener with too many plants popping up. As time goes on I will narrow it down. I think once these bands slow down I might do a song blog just for fun or something, but that is not an immediate plan.