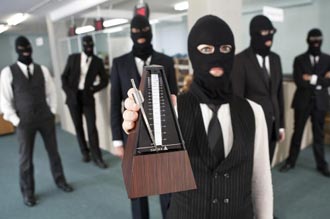 Magnolia Pictures
105 min., dir. by Ola Simonsson and Johannes Stjarne Nilsson, with
Bengt Nilsson, Sanna Perrson, and Magnus Börjeson
You and five friends are on a mission. You're wearing ski masks, dressed in black, and are forcing your way into a bank. All of the employees are moved into a position away from the money, and you have three minutes to have your way with the place, as the silent alarm has been tripped, and you know it. What do you do? Put on a drum clinic, of course.
Amadeus Warnebring (Bengt Nilsson) is the eldest child in a family of musical geniuses. His father is a world-famous conductor and his brother was a violin virtuoso by the age of four. Amadeus, however, is tone-deaf. He hates music and anything dealing with it. As the top officer in Sweden's Anti-Terrorism unit, Amadeus is taken aback when he becomes the lead on an investigation of what turns out to be "musical terrorists" — among other misdeeds, the group breaks into a hospital and kidnaps a patient to be used as a human drum machine, and takes over a bank for some beat-tastic fun. They also "rent" some construction vehicles for some earth-shaking bass, and play with the city's power lines a bit.
The Sound of Noise is not a preachy lesson on the importance of performance arts. Rather, it's a witty adventure that hits all the bases. A romance, a comedy, a musical, a drama, and an action film, it somehow encompasses those genres and is delivered in a pleasing, groove-inducing package. The amount of thought that went into producing quality drum-centric music is equaled in the storytelling. The script was not written as a throwaway to house creative concepts in which these drummers would exact their master plan madness; instead, it's all pertinent.
The story places an engaging contrast between its two main characters. Amadeus wants nothing more than for all music to stop. Sanna, the mastermind behind the group of musical marauders, wants people to understand that music is not just the pretty packaged material that has been sold to the public — music is, in fact, everywhere. Their opposing views don't keep them from sharing an interest in the other. They each benefit from the other, and it's this perplexing, almost non-existent relationship that keeps the movie from falling into pointless space. It's easy to get caught up in the interesting environments the group finds to play their epic masterpiece, but the rest of the tale keeps the movie grounded and moving forward. One part without the other would collapse this film into oblivion.
At about halfway through the film, I was decided: The Sound of Noise is the best film I've seen this year. While the movie has been making its way around festival circuits and has been released overseas, March 9th marks its official US release. Check your local listings, take a weekend vacation to whatever city it's playing in, write your congressmen, and alert the press. Do what it takes to enjoy the wonders of The Sound of Noise.
—
Matthew Schuchman is the founder and film critic of Movie Reviews From Gene Shalit's Moustache and also the contributing film writer for IPaintMyMind.