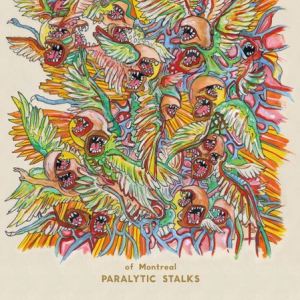 No one makes the descent into madness and confusion sound as fun as Kevin Barnes, Of Montreal's spry bandleader and primary creative force. "All I have is asthmatic energy," he decrees at the end of "Spiteful Intervention," the second of nine tracks on the Athens, Georgia outfit's latest release, Paralytic Stalks. The music's frantic and the lyrics are profane — the scribblings of a madman-genius — but it grooves. Barnes can't seem to make static, his creations constantly rattling and spinning in dizzy motion.
Lead single "Dour Percentage" is a dead ringer for a lost Bee Gees tune. It's unabashed, piano-driven dance goodness, but executed without a trace of irony. Something serious is going on here, with references to "deep abandonment issues" and a "serrated history." While Barnes's helium voice and lush production recall the overstuffed pop days of the '70s, "Dour Percentage" is authentic. Barnes's extensive vocabulary and golden voice strengthens the song (and the rest of the album's bunch), but the music's consistently grand and pleasant, if half-erratic and a touch psychedelic.
"Love is not a debtors' prison/You don't have to serve a sentence to pay back what you've been given," the tender twee pop of "Malefic Dowry" begins. But something's not entirely right here, as these words are quickly followed by, "Now I live in fear of your schizophrenic genius/It's a tempestuous despot that I can't seem to propitiate."
After that acoustic-driven dream, Paralytic Stalks enters into a scourge of overblown song lengths from which it never recovers, concluding with the siren wails and empty space of "Authentic Pyrrhic Remission." But Barnes still pulls off a miracle, crafting incessantly hooky tunes that ring out repeatedly even through the sonic pollution of their finales. You really can't fault him, either, for cranking out so much music in so little time (2010's False Priest dropped only 17 months ago).
In the span of nine songs, Barnes and company explore fuzzy space rock, pseudo-disco, and even twangy indie-country, creating a brazen hodge-podge of styles. Along the way, you'll get to know how the band operates — a slight tempo change here, an instrumental interlude there — and you'll love them for the nuances. Paralytic Stalks, the band's 11th studio album since its 1996 inception, might be the work of a forlorn 37-year-old eccentric, but you don't have to be as peculiar to enjoy it.
(Polyvinyl Records, 206 N. Randolph St, Suite M100, Champaign, IL 61820)