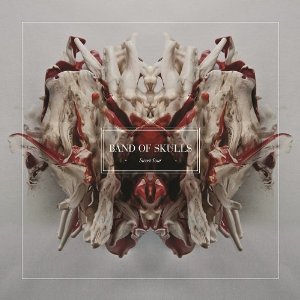 Okay, before we do anything, let's get the Jack White comparisons out of the way. Sure, Southampton's Band of Skulls might, at first listen, sound like another one of White's offshoot projects. The pounding crunch and rattle of Sweet Sour's title track call to mind certain White Stripes tunes — namely, "I Think I Smell a Rat" and "Black Math." Frontman-guitarist Russell Marsden's rocky whine recalls White's trademark vocal style.
But that's where the similarities end. Band of Skulls was forged all the way across the Atlantic, not in some nearby dive joint in Detroit. Since 2009, they've toured the hell out of planet Earth, opening for Muse, Black Rebel Motorcycle Club, and, yes, even The Dead Weather. So, they know how to infuse their influences into their own balancing act of garage-blues-meets-indie-radio. Sweet Sour, their sophomore release, adds more depth and confidence to this sound.
The frisky "Wanderluster" explores a swirling melody over a fuzzy dance beat. On "Bruises," a melodious blend of The Joy Formidable and Kings of Leon, Marsden's voice mingles with bassist Emma Richardson's to form single colossal wall of sweetness. It's poppy and gentle, a motif present throughout the album's 10 tracks. Richardson's warm voice guides the slow-burning "Navigate" and the twinkly, Band of Horses-evoking "Hometowns" to the album's conclusion.
Calling Band of Skulls a garage rock outfit is trapping them in a box too small. Sweet Sour, though a clichéd title, captures the album's contents perfectly. It's speckled with plenty of bar-blues churn ("Lies," "The Devil Takes Care of His Own," "You're Not Pretty But You Got it Goin' On"), but the fragile vulnerability of the rest makes the album one to dog-ear and revisit.
(Vagrant Records, 2118 Wilshire Blvd. #361, Santa Monica, CA 90403)