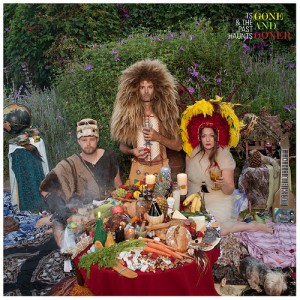 Spearheading TS & The Past Haunts is former Piebald leader Travis Shettel, who teamed up with married bass-and-drums duo Ben and Heather Heywood for Gone & Goner, the band's debut LP.
Recorded live with no overdubs, Gone & Goner is a raw affair of buzzy feedback and garagey power chords. Given that, "Let's Be Lazy" is a surprisingly polished effort with biting hooks and a siren-like guitar melody. It's the perfect three-minute garage-pop tune: radio-ready and still rockin'. "Circumstance" channels Pavement with Shettel's effortless speak-sing and indolent strums that give way to a spastic solo.
With one foot on the fuzz petal and one free to tap along, Gone & Goner is an exercise in balance. Catchy pop jingles weave in and out of tempo-shifting alt-rock on overdrive, like the dizzying "Heaven In Your Hair."
Going by Gone & Goner's cover art, it's not unreasonable to assume that TS & The Past Haunts don't take themselves too seriously, but that doesn't mean they make throwaway music. In fact, though songs like "All I Can Tell You" might sound breezy and simple, Gone & Goner is brimming with self-examination and musical craftsmanship. Of course they're having fun — it's rock and roll, man!
But spend some time with TS & The Past Haunts (perhaps with an adult beverage) to see why they deserve more than just a few casual listens.
(No Sleep Records, 16651 Gothard Street Unit E, Huntington Beach, CA 92647)