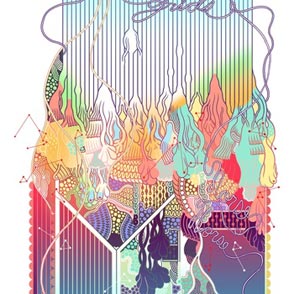 At the end of Norse Horse's "Sun Corridor," the centerpiece of their new Grids EP, all the shiny pop of the song's previous two-and-a-half minutes drops off. A chorus of deep tones and throaty voices emerges and swirls into a huge blender of noise, creating the aural version of the song's title.
The frantic, piercing melody of "Moonbeam," however, is a nice foil. Bellowing group vocals are absent, replaced by shrill singular ones and creepy guitar twinkle.
But it's not just about jangly riffs and sunny harmonies for Norse Horse. Those are here of course, but in the easy company of languid, chilled-out synths as well. The hazy "Starshores" might be fitting for a day at the beach — or an idyllic ride on a spaceship. Closer "Almost" takes a bite of each of its sister tracks on the EP and chews up a gorgeous carousel of sluggish guitar and dream-laden vowel sounds.
Don't let the title mislead: Grids is not a black-and-white fest of X and Y axes. Grids is a colorful coaster of balmy sun-pop.
(Polyvinyl Record Co., 206 N. Randolph St, Suite M100, Champaign, IL 61820)