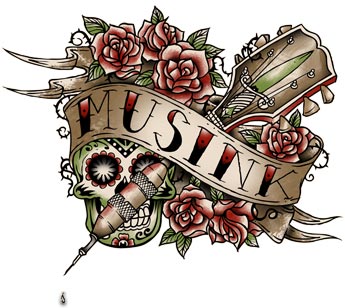 MusInk 2012, the annual tattoo and music festival, will celebrate its fiftth year in Orange County March 2nd through March 4th at the OC Fair & Event Center in Costa Mesa, California, with performances by Tiger Army, A New Found Glory, Alkaline Trio, Against Me!, Yellowcard, and Bayside, among others, and appearances by legendary tattoo artists Jack Rudy, Bob Roberts, and Mark Mahoney to name a few.  Tickets are on sale now at Ticketmaster.com.
MusInk 2012 Lineup
March 2, 2012 (Noon – 11 p.m.)
Tiger Army
Guana Batz
Howlers
March 3, 2012 (2 p.m. – 11 p.m.)
A New Found Glory
Yellowcard
Bayside
Cor
Kill The Complex
March 4, 2012 (2 p.m. – 11 p.m.)
Alkaline Trio
Against Me!
Hell or Highwater
Darlings
Featured Tattoo Artists: Jack Rudy, Bob Roberts, Mark Mahoney, Freddy Negrete, Richard Stell, Charlie Roberts, Grant Cobb, Robert Atkinson, Robert Hernandez (Artwork by), BJ Betts, Juan Puente, Small Paul, Rick Walters, Permanent Mark, Shawn Barber, LTW Tattoo (Spain), Vic Back, Megan Hoogland, Nikko, Sid Stankovits, Yushi (Japan), Norm, Kari Barba, Jeremiah Barba, Davide (Italy), Adrian Willard (UK), Tommy Montoya (from "NY INK" on TLC), James Vaughn (from "Ink Masters" on SPIKE), Myles Karr, Josh Egnew, Black Eyes Tattoo (Japan), Baba, Gold Rush Tattoo, Dalmiro Dalmont, (Sweden) O'Reilly's Tattoo, Kyle Crowell, Chente, Eddie Tana, and more.