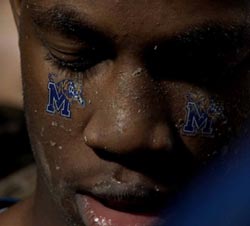 The Weinstein Co.
110 min., dir. by Daniel Lindsay and TJ Martin, with Bill Courtney, OC Brown, Montrail Brown
Whether you followed his story through the papers, read the book, or saw the movie, the name Michael Oher probably rings a bell. While Oher's story was the basis for The Blind Side, filmmakers Daniel Lindsay and TJ Martin set off to North Memphis, Tennessee to document a young man in a similar situation. When they arrived, they caught themselves in the middle of a much broader story that reaches far past the ideals of high school football and into the heart of true determination.
Manassas High School is seen as the bottom of the barrel when it comes to football. Never having won a playoff game in its 100-year existence, they often take money from larger schools to play a "tuneup" game – basically, accepting money to keep their program going by meeting with an advanced team who just wants to hand Manassas their own ass. Recent years have seen the team go frequently winless. The coach of the team volunteers his time at the school; during football season, he sacrifices time with his own family to coach many kids who lack discipline and a father-figure at home. On a torn-up field in an area that makes the Roger and Me depiction of Flint, Michigan look like paradise, the Manassas Tigers feel that this season will be special.
Based on that description, you'd think you know exactly where this documentary is going. A downtrodden team in an inner city where the kids are losing everything (including their education) with the title of Undefeated — they're just going to trounce all over everyone and make the audience smile, right?
Not necessarily. While I will not divulge whether the team makes the playoffs during the documented season, this isn't a movie about the undefeated season of the "underdog of all underdogs." Rather, Undefeated is a film that boldly shows you the merits of not giving up. Football aside, these kids begin to mature right before your eyes, as they finally refuse to let their circumstances beat them down.
Having been lucky enough to be dropped right into this unbelievable Manassas season, Lindsay and Martin have crafted a smartly-edited piece complete with a gloriously subtle score. They were able to treat their surroundings with tender care, while being invasive enough to get footage no filmmaker should be able to score.
Nominated for a "Best Documentary" Oscar at this year's Academy Awards, Undefeated seemingly sprang out of nowhere and knocked me off my feet. It's a film that just needs to be seen. It doesn't unveil the evil nature of some government conspiracy, rehash well-known situations, or just flash pictures along to a pretty voice, as most have come to expect from a documentary. This is real life. This is the melodrama-free depiction of every sports movie you have ever seen. Hallelujah.
—
Matthew Schuchman is the founder and film critic of Movie Reviews From Gene Shalit's Moustache and also the contributing film writer for IPaintMyMind.