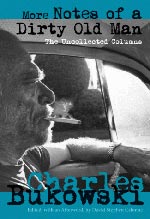 City Lights, 248 pages, paperback, $16.95
Let me start by saying that I've never read any of Charles Bukowski's work before picking up this book. I remember I was quite young when I stumbled upon an audio clip of one of his poetry readings entitled "It's Authorized," and the visualizations provided by that piece that raced through my mind freaked me out.
My next encounter with Bukowski did not occur until about three years ago. I watched a clip from the film Supervan on the website Everything is Terrible and was intrigued by Bukowski's cameo appearance. I started to read about his life and watch various clips of interviews and poetry readings. At 30 years old, I can now handle the subject matter much better than at 12.
When the opportunity to review More Notes of a Dirty Old Man arose, I jumped at it. I've been a fan of the "transgressive fiction" genre of literature for a while now, having read almost every novel released by Chuck Palahniuk, the extremely confusing (yet transfixing) Naked Lunch by William S. Burroughs, and the unapologetic work of Hunter S. Thompson. So to tackle some Bukowski seems like a natural next step.
With the authors mentioned above, their work seems to revolve around some kind of mind-altering substance in relation to their characters. Palahniuk focuses on characters who are addicted to — or, at the very least, fancy —  pharmaceuticals. Burrough's work was inspired by his own addictions to heroin, and Thompson was a madman who experimented heavily with all kinds of substances, and introduced such centralized themes in his stories and novels. But Bukowski's material embraces the bottle and the down-and-out life of being a man…and a drunk. Rather than disavowing the disease, through his work and in his personal life, Bukowski celebrated it. His raw and unadulterated stories of life as a lowlife have become inspiration to many.
More Notes of a Dirty Old Man – assembled and edited by Bukowski aficionado David Stephen Calonne (who also provides the afterword) – is a collection of short stories, interviews, and columns by Bukowski that were published from the late '60s into the mid '80s, many of which originally appeared in The LA Free Press and Open City. The book has no real flow, which at times makes for some difficult reading — especially during some of the interview pieces.
With that being said, it is worth fighting through the slower material to reach some of the short stories. Many feature Bukowski himself as the main character, as he tells tales of being a traveling poet, finding himself in some very particular and unusual situations. Some of the most memorable stories deal with his relationship with women. Bukowski's view of women has been frowned upon as being sexist and violent, and in some of these stories he lives up to those accusations. But one story in particular reads like a romance novel, as he tells a story about a woman who randomly shows up at his door. Revealing she's a fan of his work, she wants to see the man who writes like the way he looks ("an undergrown aged gorilla dying of cancer"). They eventually screw in an extremely passionate way, but it's the way he describes this woman and the details of her body that are so striking. I've got to admit, it turned me on.
In the course of this book, Bukowski tells stories of preaching the gospel of alcohol to a group stuck in the drunk tank, the life of being a boxing booking agent who ha fallen on hard times, and a boy who witnesses his demented and twisted dreams come alive. The highlight of the book comes in the form of his nonfictional-inspired fictional story about his encounters with two French men named Jean and Steve. The story, entitled "My Friend, The Gambler," ends the book on a lighthearted note — no rough sex or drunkards throwing up to send you on your merry little way.
More Notes of a Dirty Old Man highlights some of Charles Bukowski's forgotten work as a columnist for several publications in the later half of the 20th century. It's a nice collection that really shows Bukowski's love of telling stories filled with the grime and the filth of life as a normal working man in a concrete jungle. Some might pass his work by due to the stigma of the subject matter and how he brought it to life by his words (written and spoken), but to do so would be a huge injustice to the world of literature. Some may get it, some may not. But Bukowski's mark on the world should not to be held in judgment. The man was as real as one can get.