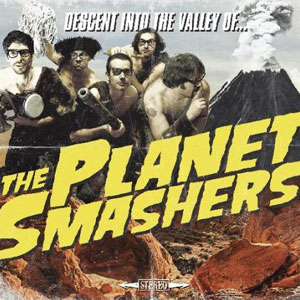 It has been six years since Canada's own The Planet Smashers released their last album, Unstoppable. With their newest effort, Descent into the Valley of The Planet Smashers, not much has changed in their sound. The songs are upbeat and catchy, full of their signature hard-hitting bass line-driven ska-punk, and the lyrics are humorous and lighthearted.
Listening to the 15 tracks featured here, I can't help but think back and reminisce about the good old '90s where music like this was being put out on a massive scale. Along with the carefree pop-punk ska sound The Smashers are known for, bands like Buck O' Nine and early Big D and The Kids Table come to mind when I sit and listen to the material here. The album's opening cut, "The Hippopotamus," is extremely catchy, and "UPS of America" presents some social commentary but remains to be humorous and non-preachy.
An unexpected twist comes in at the 12th track in the form of the song "Something Special," as the band breaks from the punk-ska sound to favor something more traditional in the ska vein.
Descent into the Valley of The Planet Smashers is another enjoyable album from the veteran skankers from the great white north. Fans of the '90s pop-punk ska sound will dig this.
(Stomp Records, 1223 Blvd. Saint-Laurent, Suite 305, Montreal, QC H2X 2S6 Canada)