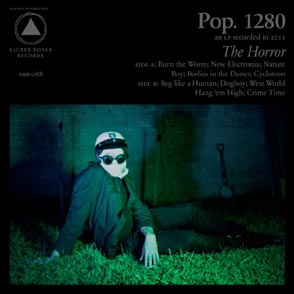 There is something rotten going on in New York City, and luckily for us, noise rockers Pop. 1280 are there to chronicle the bad times. From its creepy cover art to the overall dark, menacing vibe of the music, this a cacophony rooted in the older, dirtier New York bands like Unsane, Pussy Galore, and Cop Shoot Cop. This was a place where scummy, proud, noiseniks were creating all type of musical unpleasantries in order to violate the eardrums of their listeners.
Opener "Burn The Worm" sets the tone for what is to follow, with its pounding drums and noisy guitar skrees. "Nature Boy," probably not about wrestler Rick Flair, rides a sub-atomic bass riff and introduces and new narcotic fueled dance to the scene. "Beg Like A Human" is a musical and lyrical degradation, and "West World" speeds up a bit to a faster punk rock pace proving the band can kick it into another gear when they so choose.
It's kind of heartening, albeit in a sick, twisted way, that bands like this still exist in New York City, still keeping this flame alive. This is a must have for all of nasty, noisy rock.
(Sacred Bones Records, no address provided)