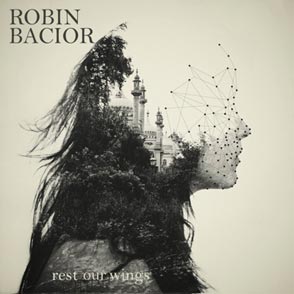 Rest Our Wings, the latest LP from the northern California singer-songwriter Robin Bacior, opens with beautiful piano chords and whimsical harmonies. Unlike many of her female counterparts, Baicor has a roughness that sets her apart. While she spins emotional tales of love, heartbreak, and loss, she does it in a way that leaves behind sappy sentimentality. Instead, she presents each track with honesty and with no excuses.
The charming piano notes that open the album on "Part Migration" give way to beautiful violin notes and subtle symbols on "I Hate the States." She moves then into acoustic guitar ballads on "Housewife's Lament," a tale of longing for more, and a unique blend of hope and melancholia on "Sun Hangs Low."
Rest Our Wings is an album of compassion, desire, and bathos. There is a quiet power and subtle determination to Bacior's compositions. Yes, they are the tracks that riddle the coffeehouses of New York, but they are also much more than that. She brings together the sounds of California with those of her new New York City home and designs something familiar, yet completely new.
(Consonants & Vowels Recordings, no address provided)