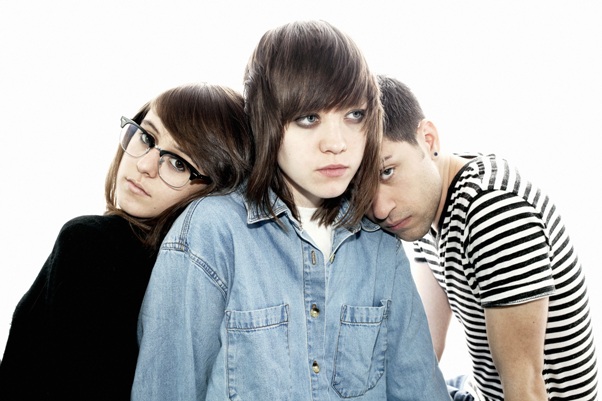 Ever sat around and pondered your existence? Ever questioned what exactly life is all about, or why the hell that girl/guy makes you crazy? Now, Now has and they're bringing their thoughts and conclusions to listeners on their sophomore album, Threads.
"For me Threads is about patterns and the feeling of being trapped in the same cycle of events; a fragile balance and a feeling of entanglement," says singer Cacie Dalager.
Maybe it was the Vancouver scenery, the small van crammed with gear that trucked 1,800 miles across the country, or, as Dalager put it, the "pressure" — regardless, Threads shows maturity and growth. Dalager says of its creation, "We spent a couple of years on writing alone. We wrote and rewrote every layer of every song so many times. Hopefully these songs will feel more developed and complete. We tried really hard to make this album something we could be proud of."
And proud they should be. Minneapolis isn't often a town associated with cutting edge music. It isn't New York, and it isn't LA, but it has got quite the burgeoning music scene, one Now, Now is proud to be part of.
"There is a pretty surprising amount of successful bands that come out of here," remarks Dalager, as she expresses its influence on the band's sound and style. "Each region typically has a particular sound they are known for, and I think that probably has had some influence on our style of writing.
"The scene here — in Minnesota at least — used to be a little more pop oriented," she continues. "When we first started playing shows in the area, there was a little cluster of indie and pop bands that would all play together."
The trio — as it exists today — came together in 2008 when guitarist Jess Abbot came on board. Now, with their laptops, pedal boards, and guitars in tow, the band takes a collaborative approach to their compositions.
"Usually there is one of us that will write the initial idea for the song and will then present it to others to further develop," states Dalager. While one member may take the reigns from tie to time Dalager explains that "it really depends on the song, but it is always collaborative."
Regardless of creative process, location, or a former pension for pop, Now, Now has grown into a mature force to be taken seriously. They've have had a busy year not only releasing their second album, but also making the jump to a new label, Trans. The switch up, while welcomed, has left the band slightly reeling.
"I'm still in 'this is too good to be true' mode. Trans is a dream label for us. It feels really new and kind of scary, but also perfect and comfortable. We couldn't ask for anything better than this," says Dalager.
With plans to keep touring in the new year and a slew of ideas for the next album, Now, Now isn't stopping anytime soon, but Dalager does want to leave listeners with a bit of advice for 2012: "Be productive, don't be a pussy, and eat less Taco Bell." Wise words.