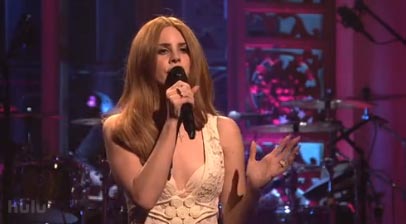 Lana Del Rey has taken a lot of heat for her SNL performance on January 14th. EW reports that "Del Rey seemed nervous and vocally shaky as she rolled through 'Video Games' and 'Blue Jeans.'" Twitter users were much harsher in their appraisal:
From @dlpesick via Popdust: "'Lana del Rey's performance on SNL last night really legitimized her career and proved she is a capable performer.' -No one"
Below is a video of Del Rey performing "Blue Jeans." What's your take?