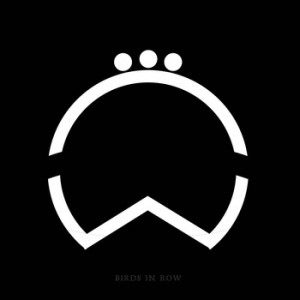 This collection of previously recorded material from the French hardcore band Birds In Row contains tracks from their Cottbus EP and Phoenix seven-inch, both previously released by Vitriol. Now the band gets the deluxe reissue treatment as both these pieces of music are collected onto one 12-inch LP. Given that it's Vitriol, the label responsible for releasing Graf Orlock's amazing Doombox record, you know it's going to be nicely packaged. But even if this record came in a plain brown wrapper with the band's names scrawled across it in black magic marker, you would still want to pick it up.
Birds In Row play at the dirtier end of the hardcore pool, with a sludgy, noisy sound that is full of hooks. While not quite as discordant as noisecore, their sound is distinct enough to draw the interest of people who like their hardcore offbeat and raging.
Opener "Among The Ashes" mines a dirge-like groove, until it detonates two minutes in and continues its frantic pace until it ends. "Word Of Astaroth" mines a pummeling mid-paced bass and drum groove before the guitars kick with their noisy, angular viciousness, while "Ace Of Fools" is an up-tempo, frantic number. The band throws the listener a curveball with "Cottbus Outro," in that it relies on acoustic guitar, handclaps, and stomping percussion to obtain an edgy, old-time blues appeal. The interestingly titled "Die, Testosterone, Die!" rages, while "Phoenix" breaks into fiery bursts of energy to close out the set.
At present, the band is recording a full length, so it's worth discovering (or rediscovering) this band with this reissued and repackaged set. It contains some urgent and excellent music, and the deluxe packaging is the cherry on top.
(Vitriol Records, 6015 Sheridan Way, Buena Park, CA 90620)