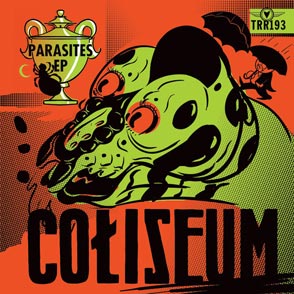 The EP Parasites from Coliseum is a companion piece to 2010's House With A Curse LP.  Much of the EP consists of leftover tracks from that recording session, mixed and produced by J. Robbins (of Burning Airlines, Jawbox, and Government Issue.) The result is much like House With A Curse, a tight, well-produced set of post-hardcore songs with an arty flair.
The Louisville, Kentucky band recorded that album and most of this EP in the fabled Inner Ear Studios in Arlington, Virginia. The first two tracks, "One Last Night" and "Waiting (Too Late)," are the best on the EP, and some of the longest. While under two-minute songs are perfectly acceptable in punk music, some of the short tracks here felt like they could have been fleshed out a bit more. This eight-song EP is just under 20 minutes long.
Parasites could have been expanded to be a full album. Sometimes, when tracks are left over from a recording session and wind up on an EP, its obvious why they didn't make the cut.  Usually those songs didn't quite measure up to the other material, or didn't fit tonally with the rest of the record.  That isn't the case with the songs on Parasites.  The sound is consistent with House With A Curse and the songwriting is strong.  This seems more like an effort to keep up momentum after the success brought upon by their most recent record.
(Temporary Residence Ltd., PO Box 60097, Brooklyn, NY 11206-0097)