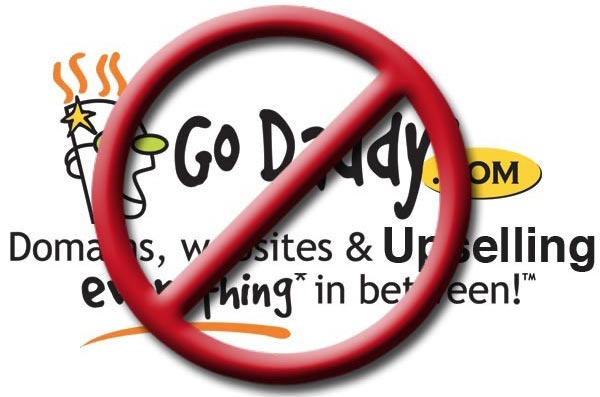 By now, you've likely heard that GoDaddy voiced early support for the Stop Online Piracy Act (SOPA), the free-speech trampling bill that will be voted on in early 2012. GoDaddy not only supported the bill — they were later revealed to have helped write it, and are exempt from its provisions.
Recently, GoDaddy has been the target of a massive SOPA protest, as tens of thousands of domains have transferred to other hosts or domain registrars. Big-name sites, including Wikipedia and Imgur, have dumped GoDaddy. In fact, during the week leading up to Christmas Eve, more than 72,000 sites left GoDaddy. All this is leading up to December 29, 2011: "Dump GoDaddy Day."
As part of a not-so-subtle PR ploy to stop the bleeding, GoDaddy made a statement on December 22nd that they no longer support SOPA. Fine. This is what any company would do in response to this sort of outrage that would cause such immediate damage to their bottom line.
But is GoDaddy really worthy of forgiveness? They applauded the bill early on and referred to those who opposed it as "myopic." Their original statement was recorded by The Daily Dot:
It's a welcome step in the right direction, and we at GoDaddy.com applaud the leadership in the House Judiciary Committee, the House Judiciary Subcommittee on Intellectual Property, Competition and the Internet and the Senate Judiciary Committee, for taking decisive, bicameral and bipartisan action.
Furthermore, remember that not only did they help pen the act, GoDaddy's own CEO would not commit to "changing [GoDaddy's] position on the record in Congress" — and this was after their statement rescinding support had been made! To be fair, on December 27, 2011, GoDaddy's name was finally removed from the US Congress House Judiciary Committee's list of supporters.
Since the boycott has begun, GoDaddy has been doing everything in their power to block domain transfers, clearly violating ICANN regulations. According to NameCheap, "GoDaddy appears to be returning incomplete WHOIS information to Namecheap, delaying the transfer process. This practice is against ICANN rules." CNET has also reported on the "technical barriers" GoDaddy has thrown up to prevent its customers from leaving.
In our opinion, GoDaddy's sudden, money-based change-of-heart is too little, too late. We at Verbicide stopped using GoDaddy as our host more than a year ago due to poor service, high prices (for anything above negligible server space), and a lousy interface. It was one of the best decisions we ever made. If you are the owner of a website, small or large, and you are either registered with or hosted by GoDaddy, please consider immediately taking a stand against SOPA and switch to a company that does not wish to destroy the internet.
Five Alternatives to GoDaddy
HostGator is the company that now hosts VerbicideMagazine.com, and we couldn't be happier with our decision. Great prices, incredible customer service, and, best of all, a strong anti-SOPA stance.  Use the coupon code NOSOPA for 50 percent off your first month.
Talk about cashing in on your competitors' mistakes — NameCheap has been ruthless. This site offers affordable domain name registration. Among others, they are offering the coupon code SOPASucks for a $6.99 domain transfer to their registration service. MyDomain.com seems to be laying low, having not made an official statement either way with SOPA, but they are another registration service who offer an affordable alternative to GoDaddy.
Dreamhost offers $50 off and four free domain registrations to anyone who signs up for a year of hosting — just use promo code SOPAROPA.
A Small Orange has taken a strong anti-SOPA stance. Though I'd probably still suggest HostGator over them, they're still a great alternative to GoDaddy, and are offering a wonderful deal for smaller sites with relatively light traffice: 25% off shared hosting plans with coupon code OrangeYouGlad.
This is a nice, easy alternative to GoDaddy. Hover is offering 10% off domain transfers if you use the coupon code SOPA, and are also providing a "transfer valet" service, performing all necessary tasks to move your domain to the new registrar.
So there you have it. If you have more questions about why SOPA is horrible, here is an excellent, simple article on RockMelt that breaks it down.
If you have any other information you'd like to provide about SOPA or its sister act, PIPA, please leave them in the comments below. And if you know of any other hosts or registrars who oppose SOPA and are offering great transfer deals, please let us know!