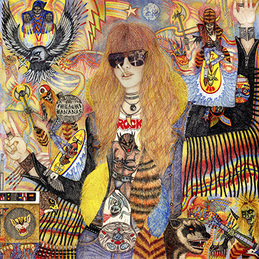 When judging a piece of music by Jennifer Herrema, you must abandon all concepts of irony and just go with the flow. You just have to judge it on its own merits. Sure, there those who think she might be having a good wink with rock 'n roll throughout her career with Royal Trux, RTX and now this project, which is basically a renamed RTX (all the faces remain the same).
In RTX, Herrema examined all facets of hard rock and '70s metal and pushed it about as far as it could go. The results were usually quite thrilling, as she and her band laid down some excellent jams. Now they are back, and they have introduced a few new wrinkles into the mix.
For one, there is a more electronic element present on this album, as if she's trying to combine glitchy New Wave with acid rock. Though that may not sound terribly appealing, it still remains enjoyable, but ultimately sounds like a collision between the '70s and '80s with neither decade particularly winning the battle. Sometimes you wonder if she is joking, like on the intro for "Hot Stupid," which is so ridiculous it's not even funny. But for the most part she keeps these moments in check, delivering another great dose of trashy rock goodness.
So for those Herrema fans jonesing for another dose of their heroine's oddball musical obsessions, and for those who just want to hear weird bastard hybrid music, this is definitely worth checking out. Just make sure you leave all your concepts of irony and sincerity at the door before you take the trip.
(Drag City Records, 2921 N. Cicero Avenue, Chicago, IL 60641)