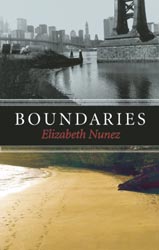 Akashic Books, 275 pages, hardcover, $15.00
Set against the fast-paced backdrop of the publishing world, Boundaries is the story of a Caribbean immigrant struggling to reconcile the culture of her past with her new home in New York City.
The story opens after Anna has spent a month with her parents in the Caribbean. During this time she comes to realize that both of her worlds, past and present, are changing. With the revelation of her mother's cancer, her parents come to New York for treatment. It is here that Anna's struggle to reconcile her two worlds begins. In preparation for their arrival, she suddenly finds herself trying to hide parts of her new life from her traditional past.
As Anna learns the truth behind her parents' relationships, she comes to understand better understand her mother. Simultaneously, she falls in love, fights for her job, and struggles for her independence and for the relationships that matter most in her life. The journey is gradual, but is ultimately one that leaves her standing on solid ground.
Boundaries is both enlightening and relatable. Even if you are not an immigrant, and even if your family does not hold steadfast to traditional values, Anna's journey for self-discovery is one anyone can relate to. Nunez paints a portrait of the complexities of moving forward while not forgetting the past, and eloquently shares the complexities of breaking away from your family.