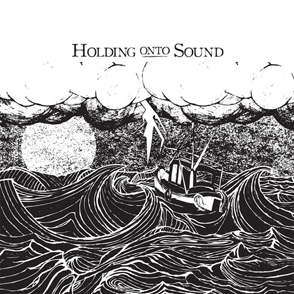 Holding Onto Sound delivers a new seven-inch with as much power and energy as their live gigs. Vocalist Bennett Mains kicks the album off with his distinct voice on full blast, and he sounds fucking phenomenal. All three tracks — "Consuming Daylight," "The Mechanic," and "Seahorses" — are well thought out and smash into your brain with all of the familiar sounds that we love from HOTS.
"The Mechanic" is the tightest track on the EP — as described in the review for their 2011 full-length The Sea, HOTS style is reminiscent of "orgcore, but they have introduced upstrokes one would expect from ska" — this high-light track exhibits their unique style and the insanity of Bennett, Bob Gates, and Zabi Naqshband, with Vanessa Tidwell's madness on the drums.
Even if you never play the seven-inch, the beautiful cover art on this special press is worth the price.
(Geykido Comet Records, PO Box 93324, Las Vegas, NV 89193)

Holding Onto Sound – Seahorses by GC Records