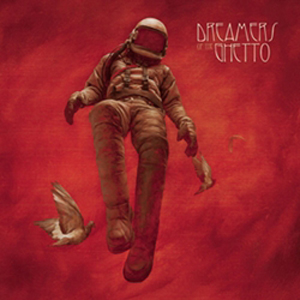 Dreamers Of The Ghetto certainly dream big on their debut Enemy/Lover, with a sound more fitting to a band whose played together for twice as long. From patiently spacey intros, to front man Luke Jones' inescapable tribute to Bono, there's a U2 influence that at first seems gimmicky. Then again, saying an anthem rock band isn't influenced by U2 is like saying Ringo Starr hasn't been influenced by Paul McCartney (come on).
Midway through, when the gems "Regulator" and "Always" drop, there is a sense that DOTG can form a sound all their own. It's a unique blend of the young and old; a synthesiser scaling the airwaves with a choir of gusto-filled voices. In those moments, a less "indie" version of Beach House describes them in a nutshell. That's just the thing, however. It's best to describe them on the backs of other artists, which isn't necessarily ideal.
The spotlight usually falls on Jones' commanding voice, but hidden underneath is a flawless pair of electric guitars. They unwind in two note riffs that would make a baby stop crying ("Night Hawks"), and the humility in playing only notes that are needed makes the guitar work on Enemy/Lover most laudable.
I've never changed my mind about a band as quickly as with this one. The word "unfolding" is used alot in the context of an album in general, but it truly makes sense with this one. My eyes stopped rolling after the first few songs and the lightbulb went off:  "Oh wow. I'm very wrong." They might not reinvent the genre, but Dreamers Of The Ghetto have put out a solid record that's meant for the stage in just about every way. Their potential to get noticed is through the roof.
(Temporary Residence Ltd., PO Box 60097, Brooklyn, NY  11206-0097)