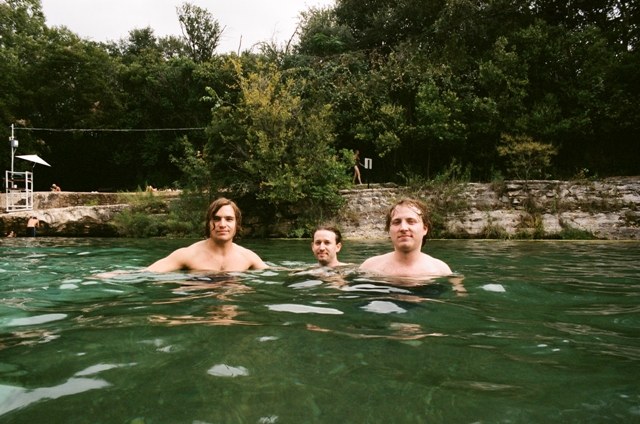 There's no room for irony in rock and roll — I wish someone had told that to the bands in Austin for South by Southwest last March. It was the last Saturday of the festival, and I was suffering through a set by some "side project" band on the back stage at the Hole in the Wall. When I finally got up to leave, I was completely bludgeoned by the band on the front stage by the door.
They played their melancholic and poppy hooks heavy, loud, and sludgy. The drummer bashed his kit, and the bass had a punchy, clean tone usually reserved for pop-punk. The front man played fuzzed-out and distorted melodic lines and power chords as he sang his pleas of heartache straight and clean. I had discovered New Orleans' Lovey Dovies, and they kept me glued in front of the stage for the rest of their set.
The Lovey Dovies were formed in 2009 when singer/guitarist James Hayes asked his friends in the New Orleans punk scene (bassist Isidore "Izzy" Grisoli from Big Baby and drummer Dan Fox from Hatchback) to help him realize his vision and play his songs. After releasing their eponymous debut in 2010, they took to the roads of South America for their first tour. They've toured the States a couple of times and they've recently expanded their lineup. Dan Fox has moved to second guitar, and Eric Rogers (Empress Hotel) has been recruited to play drums. They've sold out of the initial pressing of their first album and are slated to return to New Orleans' Living Room Studios to begin work on their second.
They were back in Austin recently, debuting their newest lineup and headlining a bill with the Sour Notes at Spider House. We hung out and discussed their influences&direction, their life out on the road, and their enduring friendship and love of music they've been playing since high school.
I recently read you guys described online as "hardcore pop."
Izzy Grisoli: That's because we wanna play poppy music, and that's what we're trying to do, but it's gonna come off with a hardcore, sludgy, or distorted sound.
James Hayes: A New Orleans sound to it, yeah.
Izzy: We're from New Orleans. We've seen a shitload of Eyehategod shows, you know, just a ton of metal and punk all around.
James: In New Orleans its jazz, metal or…nice, really "pretty" indie rock stuff, and we have nothing to do with any of those things.
Izzy: As far as musical intent, we have nothing to do with those things, but [it does influence us]. We're like dudes that listen to REM but hang out with the Melvins.
James, I hear a real vulnerability in the way you sing, [the way] your lyrics [interact] with the melodies. And that vulnerability comes off as strong; it comes off authentic when it's in the middle of all that tumultuousness and sludge. It's not sappy.
Dan Fox: Well, that shit's just real. You know, James lives a pretty intense life and the rest of us do, too, just doing things like going to South America and touring. To a certain extent, that just comes from how we live. That shit's not made up or anything.
James: I really don't like it when bands, like, sing about just fucking bullshit, stuff that isn't really real, [just forming] words that fit together and sound nice and that's basically it. I don't see why you can't just say what sucks about your life in an eloquent and cool way.
Izzy: Like the song "Comfort Zone" — written on tour about being vulnerable outside of your comfort zone. It's interesting that you bring it up; we are vulnerable because of our intensity. We get up in front of a bunch of people that have never heard us before, we play way too loud, and they all go running outside, dressed so nice. We just wanted them to stay in and hang out with us, make us feel cool. No, they leave and then we're on our fucking own in a strange place, just trying to do what we love. You know, "Sorry we're too loud." We don't know any better — this is the only way we can feel it.
James: We're not a metal band, and we're definitely not a punk or a hardcore band.
The only way I would compare you to punk rock is in spirit.
James: That's the founding issue. How do we grow old and be "punk" and not bore ourselves to death with punk rock music? Because I don't wanna play that.
The new lineup probably gives your melodies and singing more room.
James: Having a second guitar player just opens up the songs so much more, and it gives me more space to sing. I can pay more attention to the crowd and be more involved.
Eric Rogers: It gives me the opportunity to play with an intensity that I haven't played with in a long time. It's a lot of fun, and it's a new experience for sure. I think James is a great songwriter.
Dan: What's funny is Eric said he hasn't played music like this since high school, and we never stopped playing the music that we played in high school. We're pretty much still there.
Well, James, you spent your childhood in Chile, so when it came time to tour, you called your friends and booked the first Lovey Dovies tour in South America.
James: The South American tour was great. It was probably [one of] the most emotionally rewarding experiences I've ever had. It's so different from the States. I was super pleased and honored to be playing for kids that had never seen an American band in their tiny, shit-ass, Argentinean barrio town ever before, and they loved it. We got to play community centers packed with kids, and kids were just stoked. They loved it.
Dan: Chile is a young country. There are a lot of young people, and they're totally into rock music in a very unpretentious and unjaded way. I think in the States, a lot of people are just kind of over it. When you get to South America it's almost like it's 1992 or something.
Izzy: At this one show we played, there were girls screaming like it was a Beatles concert or something. Simultaneously, a massive pit started, and they just picked me up and I crowd surfed while playing bass.
From hanging out with you guys and watching you play, [it's obvious] there's so much love there. You guys are good friends and have been for a long time.
Dan: We might get home and go to the bar and hang out. I know that's special, when you can come back from a tour and still want to hang out.
Izzy: You just have to not stop being fucking friends. Anybody who says, "Hey, you're an asshole. I'm not gonna be your friend anymore" is an asshole.
The album is really true to your live sound. Are you recording the next album in the same studio, Living Room Studios?
James: Everything we've done, ever, has been recorded there, and I don't think that's ever gonna change. I don't see any need for it to.
What's next for the Lovey Dovies?
James: We're gonna go home and put out a really great record and just tour for two years straight.
The country?
Izzy: Which country?
James: Yeah, which country?
—
Jim Trainer is a singer/songwriter and freelance writer living and playing in Austin, TX. He can be reached at jimtrainer.net. Read more at jimtrainer.wordpress.com.