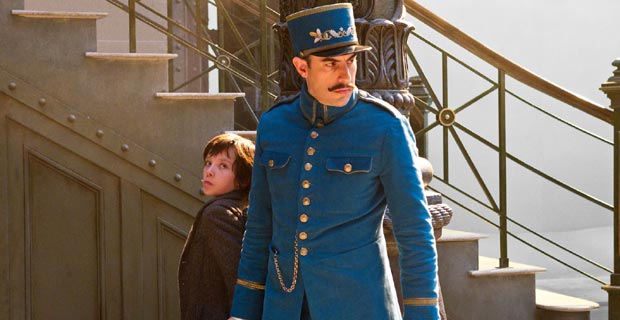 Battling for your holiday earnings, two family-oriented pictures are bursting onto the screens this Thanksgiving. The Muppets and Hugo are both enjoyable films (Hugo being my favorite of the two) and so they both deserve your time. This past Sunday, the 20th, I and a group of journalists were joined by the cast, producers, and the original story writer for Hugo at the Ritz Carlton, near New York's Central Park. In attendance were stars Sir Ben Kinsgley, Sacha Baron Cohen, Asa Butterfield, Chloe Moretz, and Emily Mortimer. Producer Graham King, producer/writer John Logan, and Brian Selznick, whose book the film was based one, were also in attendence.
Sacha Baron Cohen wasted no time brightening up the room with a bit of laughter as he was asked how it felt to play an authority figure, as well as a sexually inhibited character, in the film.
"Was that for me or for me or for Asa [the 13-year-old lead actor in Hugo]?" But Cohen was not there to play the fool as he explained that "playing an authority figure, well, he's a bumbling authority figure. And he's dark, but he does have some beauty and softness underneath him. So a bit like my other characters. You know, he's a mix of things."
All of the actors seemed really in tune with their characters as they described them; even young Asa Butterfield has a firm grasp on how to tackle a role that is nothing like himself: "Well, Hugo, he's an orphan, and because he's had to grow up far faster than anyone else his age should have to, I found it quite hard to relate to him because of all the hardships he's gone through in his life. So I just had to come up with false past for him that was similar to mine and relate to him in that way."
Though prolific director Martin Scorsese was not in attendance, the group had plenty of insight regarding his thoughts and processes.
"He doesn't sort of tell you what to do, and guide you through every step of the performance," said Emily Mortimer. "He just shows you [other] movies. He did that on Shelter Island as well…So it's more like he just helps you to understand the world of the film by showing you other people's films, which is his inspiration anyway. And that movie was just so beautiful."
Even with aurthor Brian Selznick there to speak for himself, it was Sir Ben Kinglsey who perfectly tied a bow around the intentions of Selznick and Scorsese, and summed up what is so special about Hugo: "Well, I think the core value of its magic is its fearlessness in putting wounded characters on the screen. That's a very brave move. It's not very fashionable. It's not sugar coated."
One of the great things about Hugo is that it is a film for everyone; it does not matter what age you are. It feels as if studios finally understand that the filmmaker knows what the audience wants without compromising his own vision. Sacha Baron Cohen explained this ideal so succinctly, when the final question of the day asked if kids would have the patience to sit through Hugo.
"It seems to me that Marty [Scorsese] makes films for himself," said Cohen. "He is an artist, a true artist, and he makes the movie that he wants to see.  So my first line in the movie had the word malfeasance in it, which I barely understood. And I said, 'Aren't you worried that some of the children won't understand this, let alone the grown ups?' He said, 'No, it's the right word to use there.' He's one of the last remaining artists that is out there, and I think we should respect that. The movie is not focus grouped, and it's not tailored for a seven-year-old in Iowa or Berlin or anywhere to appreciate it. Marty has made a work of art in the same way that Miller did. So I think that is a beautiful thing, and it's an incredible achievement for a filmmaker still to be able to do that. Thanks to Graham for being able to fund that."
I don't think it couldn't have been said any better.