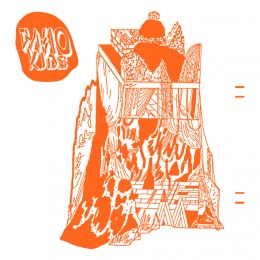 For those of you not well versed in Norwegian, Aabenbaringen over aaskammen means "The Revelation Over The Mountain," and that title, though seemingly more suitable for a dreamy folk album than a synth-pop burner, fits this album proper.
Coming off of their previous singles collection, Topp Stemning På Lokal Bar ("Great Vibe At Local Bar"), Casiokids seem to have analyzed their sound with a discerning ear towards changing listener's moods throughout the course of the album. The album opens with the title track, a melancholic horn- and string-driven prelude that is both beautiful and confounding. The idyllic and countrified charm of forest sounds and wind instruments sets a very low key tone that is brashly flipped on its head when it blends into "Det haster!" with rippling synth and driving backbeat. Both songs are quite good but they don't really go together, and when juxtaposed actually detract from the experience of both.
Luckily, the alternating moods of songs find a cohesive niche about halfway through the album and the latter half is deliberate in its very modern take on upbeat electronic giddiness with a generous dose of down to earth contemplation. Standout "Kaskaden" is the embodiment of that aesthetic, with heavy rolling bass to make heads nod coupled with brooding synth to make heads think. To call the album more "mature" than their previous effort would feel like an insult, because polished doesn't necessarily mean mature, and mature probably isn't what Casiokids are going for: their sound is playfully developed but doesn't take itself too seriously. This is still music to be enjoyed at a live show filled with giant puppets and strobe lights and hundreds of sweaty bodies. The album, then, fits in perfectly: it rests somewhere in between the dance party nights and the tired, reflective mornings after.
(Polyvinyl Records, 206 N. Randolph St.
, Suite M100, 
Champaign, IL 61820)